Content marketing is a diverse field – From audience research to content ideation to content creation to search engine optimization to editing and proofreading, marketers have to keep their eyes on too many balls at a time.
Hence, you cannot afford to lose your guard in this competitive environment. Else, your competitors will outperform you and dominate your niche.
This is where leveraging AI content creation tools come in.
These automated content creation tools give you the advantage of speed by automating some of your marketing tasks. They are typically faster than humans and can take on many tasks without getting tired or overwhelmed.
In this piece, we'll share the ten best AI content creation tools you need as a marketer and content creator.
Let's get started.
Copysmith is our platform, and we built it for large marketing teams who need to create great content at scale. You can sign up for a 7-day free trial of Copysmith and start writing for free. No credit card required.
What is an AI Content Creation Tool?
AI content creation tools take care of tasks that humans are not naturally inclined to do and at speed impossible for humans.
They work where humans can't and boost efficiency and productivity in what humans can do.
For instance, it's difficult for humans to identify everything people search for online. But AI tools can crawl a massive chunk of data in a few seconds to establish that.
Also, while humans can write well, they cannot continuously develop great ideas without becoming fatigued. However, an AI copywriting software can generate tons of content ideas in a short period.
Why Do You Need an AI Content Creation Tool?
You need an AI content creation tool to boost efficiency and output. They can help you perform tasks in a short period and minimize errors through automation.
Some of these tasks are:
Content Ideation
This is the process of using AI copywriting software to get content ideas and things relating to that, such as blog post ideas, blog post outlines, etc.
Full content creation
AI content writing tools like Copysmith can help you create full-length posts like blog posts, ad copy, product descriptions, etc.
Keyword research
Keyword research is essential to SEO. They reveal the keywords your target audience is using to research on Google, among other vital data. Some AI content creation tools like Ahrefs are built to take care of this.
Note Taking
Another use case for AI content creation tools is note-taking. For example, tools like Otter AI can be your assistant for note-taking when having a virtual meeting.
Let's proceed to discuss the best AI content creation tools for different use cases.
Which is the Best AI Content Creation Tool?
AI content creation tools serve different purposes for marketers. While some of them are great for content ideation and creation. Others are great for editing and proofreading.
Also, while some tools perform best with keyword research and audience research, others work well for content optimization and transcription.
Truth is…
It's difficult to find an AI content creation tool to satisfy all your needs as a marketer.
So, let's take a look at these tools and how they can help you become more efficient as a marketer.
1. Copysmith: The Best AI Content Creation Tool For eCommerce Teams and Agencies
Copysmith is an AI content creation tool for creating marketing-related content.
It takes care of several aspects of content creation, including ideation, full content generation, on-page search engine optimization, and content distribution.
It is, by far, the AI content creation tool with the most marketing-related features, especially for eCommerce teams and agencies. We highlight some of them below.
Content Ideation
Copysmith has templates for generating content ideas. If you are stuck and need a partner to brainstorm content ideas, Copysmith can be your go-to and reliable partner.
There is a special section dedicated to brainstorming. This section can help you get started with many things, such as content ideas, listicles, ad headlines, ad ideas, and more.
Let's say you want to write an article about Copysmith but have no idea how to get started. All you need to do is to fill in some details about your goal from the workspace. Once you do, our platform will recommend some content ideas you can start with.
Here are some examples in the screenshot below:
As you can see, this takes you from staring at a blank screen to having a couple of ideas to work on.
Bulk content generation
Another advantage of using Copysmith is that it supports bulk content creation.
If you are a blogger, for example, and want to create blog intros for different blog posts at once, Copysmith can help you do that.
Using the template in the screenshot below, you'll upload a CSV file containing the details of each of your blog posts, and Copysmith will come up with an outline for every one of them.
You can come up with as many as you want. And by doing this, you'd be cutting down a significant amount of time you'd spend developing blog outlines for your content pieces.
Integrations
One of the most prized perks of using Copysmith is its integrations.
They were made to ensure you can automate further and bring your favorite tools to work together for increased productivity.
We'll take a look at some of these integrations and show why they are important to you.
Frase integration
Copysmith integrates with Frase to enable users to optimize their content for better search ranking.
As SEO is important in marketing these days, marketers use several SEO tools to optimize their content further to rank higher on Google and other search engines.
Using Copysmith, you can do both the content writing and the optimization in the same place.
While filling in the required details about your content, you'd be asked to insert your primary keyword, and Frase will come up with secondary keywords to use in your content for better search rankings.
Here is our Frase integration at work:
This ensures that you don't have to alternate between too many apps before you can craft your SEO content to perfection.
Google Ads
Copysmith's integration with Google Ads lets users upload their content directly to their Google Ads account.
The idea is to ensure that you can efficiently generate ad copy and easily use them without the hassle of copying from one platform and pasting them into another.
This saves you a lot of mental energy and time.
Google Docs
Another essential integration on our platform is with Google Docs.
This integration lets you access Copysmith directly from your Google Docs and use it to support your content creation effort at any time of the day.
For instance, if you want Copysmith to help you write an introduction for your upcoming blog post, you don't have to switch between the two apps.
You can simply write all your content in Google Docs while Copysmith assists you.
Plagiarism checker
Copysmith comes with a built-in plagiarism checker. And rather than subscribing to a different tool like Copyscape for plagiarism check, you can do this from the comfort of your workspace at no additional cost.
You can access this feature by clicking on the plagiarism icon from the top right corner of your workspace.
If your content is plagiarism-free, you'd see a notification like the one in the image below:
If any part of your content is plagiarised, you'd see a notification like this:
That way, you can remove the plagiarised text and create an original one.
You'll get all these in Copysmith without additional cost or using another software.
Workflow and in-app collaboration
If you work in a large team and use a lot of content, this feature is for you.
For most marketing teams, you may manage your workflow in Asana, write your content in Google Docs, and discuss with your team in Slack.
This jumping between many apps has its cost on productivity as it consumes more mental bandwidth.
However, at Copysmith, we understand this struggle and built a solution for it. The in-app collaboration feature lets you bring in team members and work with them, limiting hassles and ensuring seamless collaboration.
This is as easy as inviting them through their email addresses:
Once they join, you can assign each one of them a role like this:
And there is a workflow where you can monitor the progress of your various tasks, see who is doing what, and when last they worked on it.
By using this, Copysmith caters to the work of about three apps and, thereby, helps you cut down expenses and improve team management.
Copysmith Pricing
Copysmith pricing starts at $19 per month. This plan gives you 50 credits, 20 monthly plagiarism checks, integrations, and in-app support.
The Professional plan costs $59 a month. It comes with everything in the Starter plan but increases your credits to 400 and allows 100 plagiarism checks each month.
The Enterprise plan comes with exclusive features such as bulk content generation, content import and export, in-app collaboration, etc.
You can book a demo with our team to learn more about this plan.
Each of these plans comes with a 7-day free trial so that you can test the platform to see if it's a good fit for you.
2. Grammarly
Grammarly is an AI-powered writing app extension for proofreading and editing your content in real-time. It detects writing errors in grammar, lexis and structure, and punctuation.
It also suggests corrections for every mistake it detects. Let's highlight some of Grammarly's core features.
Vocabulary enhancement
Grammarly helps to enhance your vocabulary. It can take your writing from average to exceptional and make your content easier to read and understand.
Grammar check
Grammarly checks your grammar and punctuations in real-time. It catches both major and minor mistakes and immediately suggests corrections.
This is useful because it draws your attention to errors you might otherwise not notice as you hurry to write down your next thought.
Plagiarism check
Another use case for Grammarly is plagiarism checking. While it's not very popular for this, the Grammarly plagiarism feature is excellent, and it keeps you from needing another app like Copyscape.
Grammarly Pricing
Grammarly's free option is the most popular plan. This takes care of basic errors like spelling, grammar, and punctuation.
Its second plan costs $12 per month. This helps with style and clarity improvement, plus other advanced corrections. Some of the things it does are tone adjustment, inclusive language checks, formality level checks, and fluency.
The last pricing plan is the Business plan. It costs $12.50 per month. It is for professional and clear communication for teams of 3 to 149 people.
It comes with everything in the Premium plan and other features like brand tones, snippets, and a style guide.
3. Anyword
Anyword is an AI copywriting assistant for generating content that converts.
The following are the major features of Anyword:
Copywriting framework
Anyword has many copywriting frameworks, making it an ideal tool for creating a conversion-driven copy.
Some of these frameworks are:
AIDA: Attention, Interest, Desire, Action
BAB: Before After Bridge
PAS: Problem, Agitation, Solution.
These frameworks define different stages of emotions that you take your audience through in your copy.
Preset keyword library
Preset keyword library is a feature that lets you create a library of words you want to use in your copy.
This is very useful if you are trying to create content with special keywords like new features, new arrivals, coupons, etc.
Integration
Anyword can be integrated with your website for continuous landing page optimization.
You can use this feature to make your landing page copy better and perform some A/B Testing.
If you are looking for other AI writing assistants with more features and use cases, you can read our review of the best Anyword alternatives.
Anyword Pricing
Anyword has three pricing plans: Data-driven basic, Data-driven unlimited, and Enterprise.
Data-driven basic costs $79 per month. It lets you create 30,000 words, access the blog post builder, and use the scores and analytics. It comes with one user seat.
The data-driven unlimited costs $239 per month. It gives you access to everything in the data-driven basic and gives you five seats, unlimited words, and integration with your landing page.
The Enterprise plan is $999 per month. It has everything in the previous plans and other exclusive features like brand guideline filters, custom models, custom number of seats, etc.
4. Wordtune
Wordtune is an AI writing software built to understand your text and make suggestions on how to make it clearer.
Based on our experience with it, below are the amazing things Wordtune does.
Sentence rewriter
The main goal of Wordtune is to help you translate your thoughts from raw information in your head into a clear, credible, and compelling text.
Whatever you have in mind, type it in on the software, and it will rewrite it for you in a better form.
Tone checker
Wordtune also has a tone checker that lets you check and adjust your tone to suit your writing goals.
Say you are writing something for official purposes and are not very good at writing official documents; it can help you transform your casual word use into something formal.
Sentence rephrase
Wordtune has a sentence rephraser for expanding or shortening your sentences. You can use this to enhance the overall readability of your content to suit specific contexts.
Wordtune Pricing
Wordtune has a forever-free plan which lets you get up to 20 rewrites per day.
Then there are two paid plans: Premium and Premium for Teams.
The Premium plan costs $9.99 per month. It gives you access to every feature except team billing.
The Premium for Team gives you access to every feature as well. But it allows you to subscribe as a team with custom pricing.
5. Marketmuse
Marketmuse is an AI tool for content planning and optimization. Marketers use it to analyze millions of articles in real-time. This helps uncover knowledge gaps and opportunities to create better content than the existing ones in a given industry.
Let's assess some of its core competencies.
Content brief creation
Marketmuse is used to create authority-building content briefs. These briefs are based on comprehensive research that Marketmuse conducts on your behalf.
It cuts the amount of time you spend researching, writing, and optimizing your content by half.
Website inventory analysis and ranking health
Marketmuse also takes inventory of your existing content and audits them based on quality and domain authority.
It suggests ways of reorganizing and prioritizing your content to give your site pages better ranking opportunities on Google.
Marketmuse Pricing
Marketmuse has a forever-free plan. This allows you to perform 15 searches each month and use all its applications.
The Standard price costs $7,200 a year. This lets you conduct 100 queries per month, export data, create unlimited projects, and use every feature.
The Premium pricing plan on Markermuse costs $12,000 a year. With this plan, you can conduct an on-demand content audit for one or more websites, conduct domain analysis for any number of pages, use all applications, bring in 25 team members, and more.
6. Sparktoro
Sparktoro is an audience intelligence platform for uncovering deep and accurate insights about an audience. For example, it shows what websites an audience reads and which influencers they follow.
To understand what Sparktoro can do for your business, let's analyze some of its key features.
Audience research
Sparktoro's audience research includes uncovering some of your target audience's most important online characteristics.
It shows you things like the websites they read, the hashtag they follow, the pages and influencers they follow on social media, the YouTube videos they watch, etc.
These insights allow you to approach your marketing with some level of precision.
Audience insights
The audience insights feature helps you build a perfect ICP (Ideal Customer Profile) by revealing your audience demographics.
Here, you'll learn things like employment data, gender, skills, interests, political leanings, etc.
Audience comparison
This feature lets you compare two related audiences to see how they overlap.
For example, if you are trying to sell a solution to bloggers and content marketers, these are similar audiences with some differences.
Sparktoro audience comparison lets you find out what the similarities and differences are so that you can make a sound judgment on how to target them.
Sparktoro Pricing
Sparktoro has a free plan that allows users to perform five free searches each month.
Otherwise, the basic plan costs $50/month. It allows you to make up to 50 searches per month.
The standard price is $150 per month. This lets you make up to 300 searches.
And the agency plan costs $300 per month. This allows you to perform unlimited searches.
7. BuzzSumo
BuzzSumo is an AI content marketing tool for content research and engagement analysis.
Below are some of the vital features of BuzzSumo.
Content research
The content research lets you find topics that your audience truly cares about. This can be identified by the number of engagements the content has, the number of social shares, backlinks, etc.
This enables you to create content that's most likely to resonate with your target audience.
Researching influencers
Another strong use case for BuzzSumo is finding influencers in your industry. This lets you discover influencers with the same audience as you and those writing about the topics your audience cares about.
You can then connect with them for collaboration and reach their audience.
Chrome extension
BuzzSumo exists as a Chrome Extension. With this, you'd be able to use BuzzSumo to conduct content research on any web page.
BuzzSumo Pricing
BuzzSumo allows ten free searches per month. Under this free plan, things you can do include influencer searches, backlinks analysis, content research, and more.
The Pro plan costs $99 per month. It allows you to perform unlimited searches and use the content idea generator, content analysis reports, domain reports, influencer searches, backlinks, journalist profiles, etc. This also allows up to five users.
The Plus plan costs $179 per month. It comes with everything in the Pro plan and allows up to 10 users.
The Large plan costs $299/month. It gives you access to everything in the previous features, plus YouTube analyzer, top author search, Facebook page analyzer, and 15 users.
8. Otter AI
Otter AI is an AI tool for transcribing recorded meetings to notes. It can transcribe your online meeting in real-time and store it in a central place for easy search and use.
Let's put some of its essential features in perspective.
Call transcription
Otter AI can take note of your meeting discussions, document every comment, and automatically store them for you to access whenever you want.
This allows you to focus more on the conversation rather than worry about note-taking.
Dictate to writing
Otter AI is used for converting spoken words to texts. If you are more comfortable with speaking than you are with writing, you can dictate your thoughts to Otter for transcription into texts.
Otter AI Pricing
Otter AI has a free plan. You can record and transcribe live, search and playback recordings, and insert comments with it.
The Pro plan costs $12.99 per month. This lets you import pre-recorded voice for transcription, add custom vocabulary, and export your content.
The Business plan costs $30 per month. It comes with everything in the Pro Plan and allows you to use Otter assistant across different meeting platforms like Zoom, Google Meet, and Teams.
The last plan is the Enterprise plan. This allows you to make organization-wide deployment and access more payment methods.
9. Jasper AI
Jasper AI is an automated copywriting software for generating marketing-related content, editorials, and stories.
Let's look at some of Jasper's essential features.
Jasper recipe
Jasper recipes are a number of templates that allow you to instruct Jasper on what to write. This has many use cases, including Boss Mode, which is Jasper's most popular feature.
Long-form writing assistant
Most people use Jasper for creating good long-form content. While this has become common with most AI copywriting tools today, not every website content writing software has this feature.
Plagiarism checker
Jasper integrates with Copyscape to enable you to check your content for plagiarism.
This saves you time as you don't have to open another tab solely for plagiarism check.
If you are looking for other AI copywriting software with more options, you can read our review of the best Jasper alternatives.
Jasper Pricing

Jasper has two pricing plans: Starter and Boss Mode.
The Starter plan costs $29 each month, and it's strictly for generating short-form content like tweets and headlines. It gives you 20,000 words.
The Boss Mode is for creating long-form content like blog posts and stories. It costs $59 per month and allows up to 100,000 words.
Want to know the differences between Jasper and our platform? We recently published this in-depth Copysmith vs. Jasper post that delves more into that.
10. Copy AI
Copy AI is an AI writing assistant for marketers. Although it creates different types of content, it is beneficial for social media content creation.
The following are its key features.
First Draft Wizard
The First Draft Wizard is Copy AI's long-form writing assistant. It helps you plan your blog post from ideation to outline to a complete draft.
Share tips and knowledge on social media
As a tool mainly useful for social media marketers, Copy AI has a specific feature for creating random thoughts and tips on social media.
If you are a social media manager, this tool might interest you.
Rich text control
Copy AI allows for rich in-app text control. You can apply any style to your text without leaving your workspace.
This is good because you can do all your content edits in Copy AI before copying your content to be used elsewhere.
Want to know how Copy AI compares to our platform? We recently published this in-depth Copysmith vs. Copy AI post that delves more into that.
Copy AI Pricing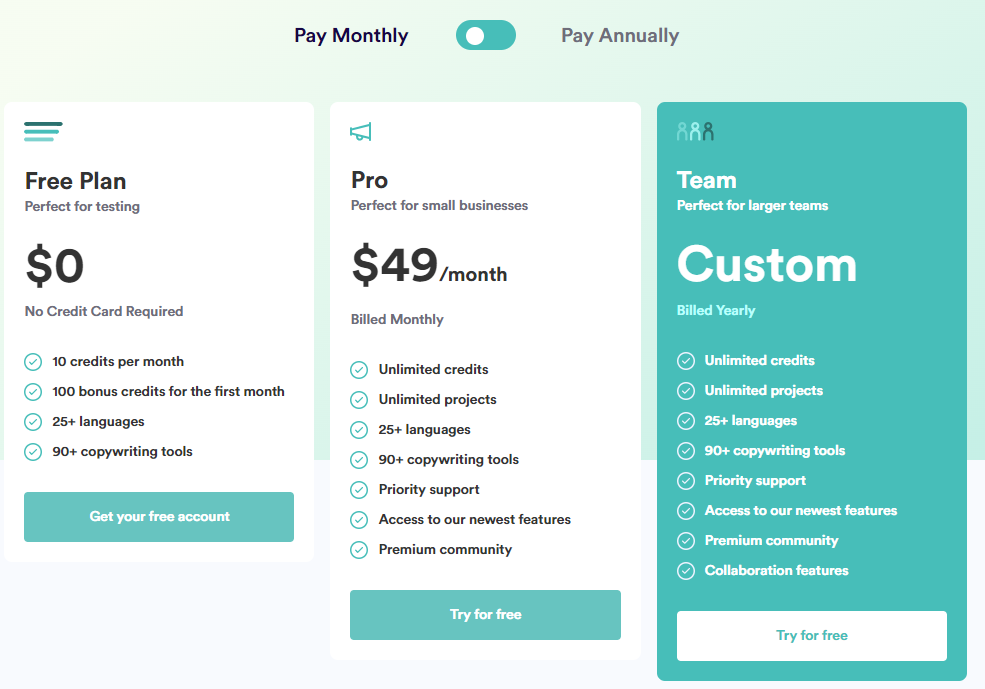 Copy AI has a forever-free plan. It gives you 100 credits in the first month and ten credits for subsequent months. You can access all templates on this plan.
The Pro plan costs $49 per month. This gives you unlimited credits and access to all available templates.
The last pricing plan is the Enterprise plan. This offers you unlimited credits and access to all use cases, including collaboration features.
If you are interested in learning about the alternatives to Copy AI, you can check out this post we wrote about the best Copy AI alternatives.
Which AI Content Creation Tool Should You Use For Your Marketing Needs?
Selecting the right AI content creation tool for your marketing needs boils down to what you are trying to achieve.
If you are looking for a tool for market research, Sparktoro and BuzzSumo might suffice. However, if your goal is to polish your content, think Wordtune and Grammarly.
If you are out for content brief and optimization, Marketmuse could be your go-to software.
However, if this is about reaping the benefits of AI content creation in multiple ways, Copysmith is the best tool for this.
This is because it is versatile in its use cases. Using Copysmith alone, you can
Automate content ideation
Generate ads copy, social media content, product descriptions, and blog posts
Generate content in bulk
Check your content for plagiarism
Collaborate with your team members in-app
Share content directly to social media
And so on.
Want to see how Copysmith works? Sign up for a 7-day free trial and start writing for free. No credit card required.
Frequently Asked Questions (FAQs) about AI Content Creation Tools
New users want to know several things about AI content creation tools. Below are answers to some of these popular questions.
How does AI create content?

AI writing tools use GPT-3 (Generative Pre-trained Transformer), a language model that uses deep machine learning to create human-like text and content based on the details you feed them with.

What is the best AI content creator?

Copysmith is the best AI content creator because of its diverse use cases. This includes content ideation, creating content outlines, generating a full draft, and so on.
Is AI content creation free?

AI content creation is not free. It is a service that relies upon different human and technological factors. Hence, payment is necessary for its sustainability.