Generating content using AI has become popular in the marketing industry. If you don't adopt it, chances are that competitors will outrank and outperform you.
AI content generators help you automate the content creation process, allowing you to create content on-demand and free up enough time to focus on other tasks.
However, they are not just as simple as the name implies. They differ in features and whom they serve. And unless you have an expert opinion on which one to choose, it's hard to make the right choice.
In this article, we'll discuss the best seven AI content generators that you can use for your marketing needs and what each of them does best.
Let's begin.
Copysmith is our platform, and we built it for large marketing teams who need to create great content at scale. You can sign up for a 7-day free trial of Copysmith and start writing for free. No credit card required.
What is an AI Content Generator?
An AI content generator helps you to create quality content on-demand. It exists to automate content creation, either partially or fully.
Unlike writing manually, all you need to use an AI content generator is an idea of what you want to write, and it'll turn that into a piece of content.
The types of content that AI content generators create differ. This depends on which tool you are using. For example, some of them can create an entire blog post, product descriptions, social media content, landing page copy, ads, etc.
To further help you understand how these tools work, we will discuss some of them shortly.
What are the Best AI Content Generators for Marketers?
AI content generators are not the same. Some were built with nearly every possible content creation need, while some only take care of minor things.
As soon as you know the core features of each of them, you'll know which is best for your marketing needs. Let's share the use cases of the best AI content generators and what you stand to gain from using each of them.
1. Copysmith: The Best AI Content Generator for eCommerce & Large Marketing Teams
Copysmith is an AI content generator that creates diverse types of content such as blog posts, product descriptions, ad copy, and social media captions.
It also serves a host of essential content creation purposes.
For example, Copysmith can help you develop content ideas if you struggle with writer's block.
Aside from creating great content on-demand, it also has unique automation features that make it exceptional for large marketing teams, enterprise companies, and eCommerce storefront owners.
Let's discuss some of those.
Content ideation
Out of content ideas for your business? Copysmith is a great go-to brainstorming partner that's available 24/7.
To get content ideas from our platform, you only need to include the industry you work in or the keyword of the subject you want to write about.
Below is an example: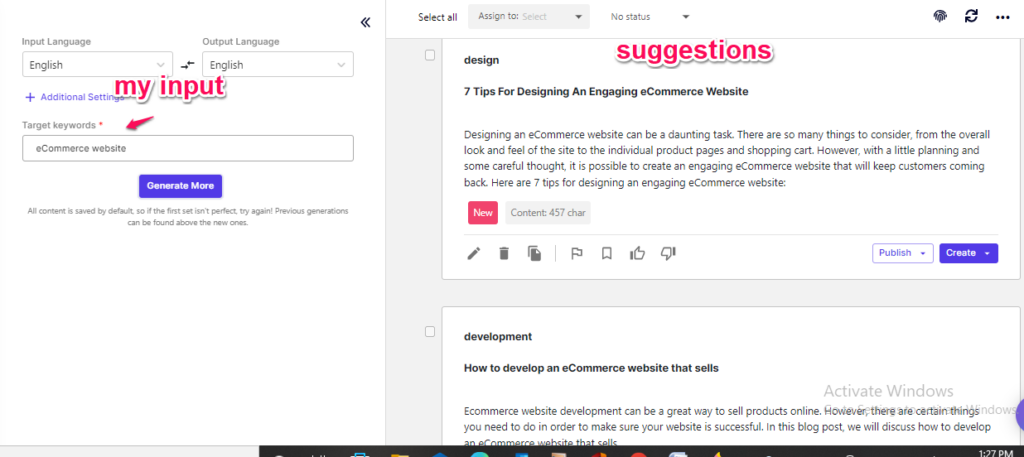 All we did was tell Copysmith what we wanted to write about, and you can see the suggestions it made on the right side of the screenshot.
Here is another one:
As you can see, by entering a few details about our industry, we could generate tons of content ideas to use in a few minutes.
Product description
Another type of content that Copysmith writes is product descriptions. And the options here are endless.
Aside from having templates for product descriptions in general, it also has unique templates for different eCommerce sites to fit their specific criteria. These are:
Etsy product description
eBay product description
Instagram product description
Flipkart product description
Amazon product description
Sales email generator
Product review reply
Why are these necessary, you may be wondering?
Simple. To boost efficiency and ensure consistency.
Each eCommerce platform has a unique content style, word count, headline style, etc. Hence, we built these separate templates so you won't have to adjust your content to suit them manually.
Suppose your eCommerce store is on Etsy. Would you prefer to write a generic product description and edit it to suit Etsy's style or generate a product description for Etsy, specifically?
We believe that you'd most likely choose the latter.
Let's say you want to sell some men's loafers on Etsy; here's the product description generated by our platform.
Here is another example of an Amazon product description for LED ring lights.
As you can see, it is easy to generate a product description using Copysmith. The made-to-order style is advantageous because you don't have to manually adjust your copy to fit the eCommerce platform you are using.
Unfortunately, most AI copywriting software that writes product descriptions don't support this, making it a unique feature of our platform.
Blog post
If your goal of using an AI content generator is to write blog posts, perhaps as a mid to large marketing agency working with multiple clients, Copysmith can help you do that.
You can plan and write an entire blog post from scratch with our platform.
To do this, you need to insert your blog post topic into the Blog Kickstarter template.
For this example, the blog post we want to write is about "How to write a blog post."
After entering the topic, it will suggest ideas on what to write about:
In this case, some of the angles suggested for the topic include:
How to write a blog post: 10 simple steps to get started
How to write a blog post: 10 tips for engaging readers
How to write a blog post: 10 tips for crafting engaging content.
If you aren't satisfied with these suggestions, you can use the Generate More button to get more ideas.
Once you've chosen an angle, the next step is to generate the outlines to choose from:
There are more than enough options, but you can generate more if you aren't okay with them.
After choosing an outline, there's an option to edit it further.
Once you're satisfied with the outline, you can proceed to write an entire blog post. For the example above, here is the snippet of the blog post it wrote for us:
Voila! You have a complete blog post written for you in under three minutes. While your competitors might be spending hours writing an outline, you could come up with multiple blog post ideas for your brand or clients within the same period before developing them into a blog post.
Social media content
Copysmith also creates social media content. This includes social media captions, LinkedIn Ad text, and Facebook ads.
Putting the Facebook Ad to test, below is the ad we created using our platform:
This ad was generated in under two minutes. Typically, it would take a copywriter some hours of work to research and create a strong and catchy ad copy.
Landing page copy
Copysmith can help you create a compelling landing page copy.
If you are a startup owner, for example, and can't afford a copywriter yet, you'll find this feature helpful.
Here is an example of a landing page copy generated using our platform:
Looking at the left side of the screenshot, you'll see the bare-bones information we fed it, and it created the copy on the right side.
Plagiarism checker
As you have seen that Copysmith delivers compelling copy, you may be wondering if the content is original.
To that end, we built a plagiarism checker on our platform. It is at the top right corn
If your content doesn't have any plagiarism issues, you'll receive a notification like this:
And if it does, you'll receive another notification that looks like this:
If that's the case, all you have to do is replace the plagiarized content with an original one.
As you can see, you don't need to copy and paste your generated content to another platform to confirm if it's plagiarized or not.
Content export
One other perk of using Copysmith is exporting your content in multiple formats: TXT, PDF, CSV, and Docx.
The goal is to ensure that our users don't have any difficulty using their content and minimize errors while copying and pasting manually to other platforms.
This also saves you the time you'd have spent transferring content from one platform to another and using it for different purposes.
For example, if you want to share the generated content with your colleagues for feedback, you can export it in PDF.
If you created bulk content and want to export it, CSV is a great option. However, if you're going to improve your generated content on your mobile device, you can export it in Docx.
Integrations
Copysmith integrates with some third-party apps and tools our users love and use.
The goal is to ensure they can bring these apps to work together on our platform and, thereby, limit the back and forth of using different apps simultaneously. Here is a review of some of those integrations.
Frase
Our integration with Frase lets you identify secondary keywords that you can use in your content to increase your chances of ranking high on the SERPs.
While creating your content, you can insert your primary keyword, and Frase will suggest the secondary keywords that you can use.
Here is an example of Frase + Copysmith at work:
As you can see, it's a lot easier to integrate these two tools on our platform than to use them separately. If you use Copysmith, optimizing your content for search ranking will not be an issue.
Hootsuite
Copysmith also integrates with Hootsuite. This facilitates automated content distribution and scheduling of posts on social media platforms.
If you run a large social media marketing agency, chances are that you'll have a lot of content to post on social media for your clients.
With this integration, neither the content generation nor the distribution will be difficult anymore. You'll be able to access Copysmith from your Hootsuite account and create social media content to be distributed across your clients' social media business pages quickly and easily.
Shopify
Shopify is one of our platform's essential integrations. It is for eCommerce storefront owners who use Shopify.
This integration allows you to upload your content directly to Shopify from your workspace or update your storefront content in real-time.
That way, you do not manually need to copy and paste your content from Copysmith to Shopify. As you can see, this is an advantage in speed for Shopify storefront owners who use our platform.
WooCommerce
If your eCommerce website is hosted on WordPress, this integration will benefit you.
It allows you to access Copysmith from your WordPress dashboard and create content whenever you need it.
Instead of opening another tab to access Copysmith, you can do that directly on WordPress.
There are other benefits of using Copysmith. Some of them are:
Bulk content creation
Workflow and in-app collaboration
An active and helpful Facebook community
Great customer support
Copysmith Pricing
Copysmith has three pricing plans: Starter, Professional, and Enterprise.
The Starter plan costs $19 per month. It gives you access to 50 credits, 20 plagiarism checks, and integrations.
The Professional plan is $59/month. It gives you 400 credits, 100 plagiarism checks, and integrations.
Each of these plans has a 7-day free trial that you can sign up for now.
The Enterprise plan has exciting features like bulk content generation, content import and export, workflow and in-app collaboration, etc.
Book a demo with our team members to learn more about it and see this at work.
2. ClosersCopy
CloserScopy is an AI writing software for creating blog posts and other marketing copy such as email, social media ads, google ads, etc.
If you'd like to know the core strengths of ClosersCopy, here are they:
AI writing sections
For ease of use, ClosersCopy has three AI sections:
Blog AI: This section is where you get templates for blog posts and related content such as meta descriptions.
StoryAI: This section contains templates for creating both short and long stories.
SalesAI: This section has templates for creating landing page copy, ads, email campaigns, and other sales-related content.
The idea here is to easily enable users to find what they are looking for in the app.
Integration with Thesaurus
ClosersCopy integrates with Thesaurus. This allows you to enrich your content with vocabulary and access a host of other better dictions as you may need them.
Copy analysis
ClosersCopy copy analysis lets you assess what emotions your copy conveys. It shows you the weaknesses and the cause so that you can improve accordingly.
ClosersCopy Pricing
The basic plan for ClosersCopy, known as Power, costs $49 per month. It gives you 300 AI Runs per month, 50 SEO audits, long-form content, and insights.
The Superpower costs $79.99 per month. Its benefits include unlimited AI writing, unlimited SEO audits, as well as everything in the Power plan.
The Superpower squad costs $99.99 monthly. It gives you everything in the previous plans plus five user seats.
Read our recently published article on the best ClosersCopy alternatives if you'd like to learn more.
3. Copy AI
Copy AI is an AI content creation tool for creating short-form content such as Instagram captions, meta descriptions, product names, bio, etc.
Below are the top features of Copy AI.
First draft wizard
The first draft wizard is Copy AI's feature for creating blog posts. It helps users plan a blog post from scratch and write a complete blog post draft.
While this will need further editing, it's a good way to launch your blog post speedily.
Rich text control
Once you are done creating your content, Copy AI allows you to implement rich text control.
This is quite useful if you are writing a blog post where you may want to bolden some texts, use Italic style, and so on.
Social media templates
One of Copy AI's strongest use cases is creating social media content. This is evident in the number of tools it has under its social media section.
Some of them are:
Launch your product
Keyword generator
Short text hook
Relatable experience
YouTube video description
Instagram product descriptions
Instagram captions
But Copy AI has a lot of better alternatives that have more features, and we have written about it. Read our recently published article on the best Copy AI alternatives if you'd like to learn more.
Copy AI Pricing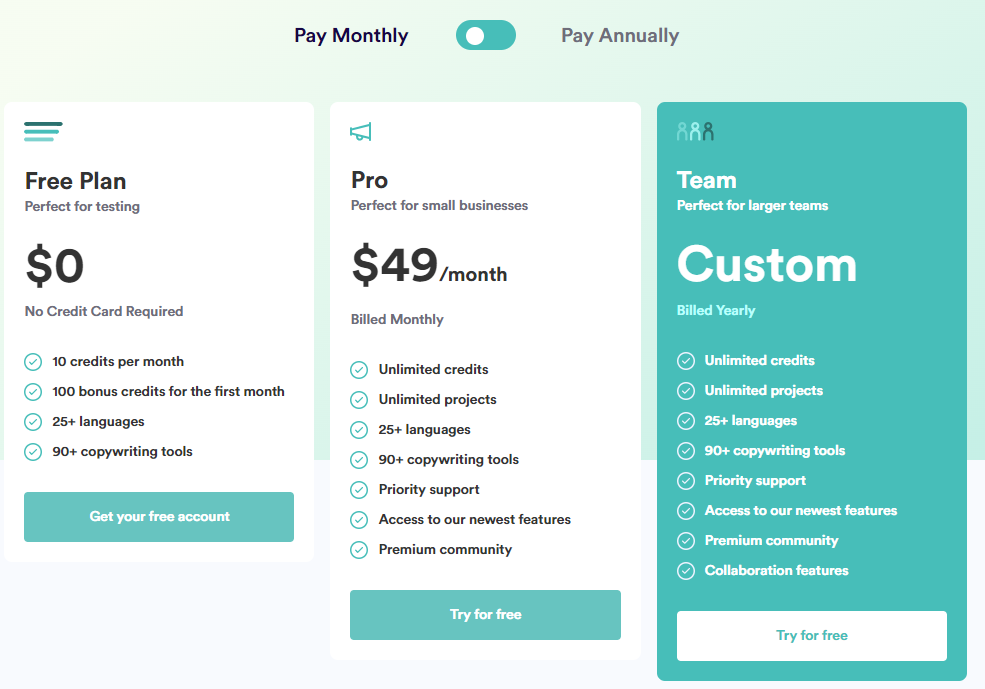 Copy AI has a forever-free plan that gives you 100 credits in your first month of trying it. Then, it gives you ten credits each month in the following months.
The Pro plan costs $49 per month. This gives you access to unlimited credits and lets you access all basic options.
The Enterprise plan also gives you unlimited credits, collaboration features, and access to all features.
If you'd like to know how Copysmith compares to Copy AI, you can click on the link above to learn more.
4. Anyword
Anyword is an AI writing assistant that's great for creating ad copy. Its use cases also include blog post creation and landing page copy optimization.
Some of its most notable features are:
Ad copy
Anyword focuses on ad copy or any content aimed at driving conversions.
Some of its ad copy templates are:
Outbrain and Taboola headlines
Pinterest ads copy
LinkedIn ads
Facebook ads
Twitter ads
Text personalization
For the personalization of your messages, Anyword creates multiple variations of each content so that you can choose which one is most likely to resonate.
To choose effectively, it has predictive performance analytics, which suggests how likely each of these variations is to resonate with your audience.
Ad account integrations
Another interesting feature of Anyword is that it integrates with your ad account. This lets it study your previous ads to learn your pattern and styles to create similar ads.
Anyword Pricing
The basic plan for Anyword is known as Data-driven basic. It costs $79 monthly and gives you access to 30,000 words, blog post builder, and score and analytics.
The Data-driven unlimited plan gives you access to unlimited words, integration with landing pages, and everything in the Data-driven basic. This plan costs $239 per month.
The last plan is the Enterprise plan. It costs $999 per month, and it comes with everything in the previous plans, plus other exclusive features like a custom model, brand guidelines filter, and API access.
If you feel Anyword is too pricey or doesn't have what you need, check out this comprehensive post about the best Anyword alternatives to see other tools that can serve you well.
5. Writesonic
Writesonic is an automated copywriting tool for creating original content and paraphrasing existing ones. This includes both short-form and long-form content.
Below are the major features of Writesonic.
Blog post generation
Writesonic is one of the well-known AI content generators for creating blog posts and long-form articles.
If you are a blogger who needs to write many blog posts, Writesonic is a good AI content generator to consider.
Copywriting frameworks
Writesonic comes with two copywriting frameworks: PAS and AIDA.
PAS stands for Problem, Agitation, Solution, while AIDA stands for Attention, Interest, Desire, Action.
These formulas represent stages of an emotional journey through which you take your readers in your content.
For example, if you use AIDA, you hope to get their attention with your first sentence or first few paragraphs and win their interest. Once you have their interest, you can also make them desire your product, and lastly, you can invite them to take action.
Plugin
One of the perks of using Writesonic is using it as a plugin on your WordPress site. This enables easy access and hassle-free use of the content you generated using it.
But Writesonic isn't perfect, so we made a list of the top Writesonic competitors. You can click on the link above to learn more about them.
Writesonic Pricing
The Writesonic basic plan costs $15 per month. This gives you access to 100 credits, using the long-form writing assistant, and integrating with SEMRush.
The Economic plan comes with all these benefits with access to 750 credits. This costs $25 each month.
The professional plan costs $45 per month. It comes with everything in the previous plans, plus unlimited credits.
The Startup plan is $95 per month. It gives access to all available features, with the highest quality generation and unlimited credits.
If you aren't sure whether you should choose Writesonic or our platform, you can check our review of Writesonic vs. Copysmith, where we reviewed both tools more in-depth.
6. Jasper AI
Jasper is an AI copywriting tool that helps marketers create long-form and short-form content. Although it has many templates, it is popular for creating blog posts.
Let's take a look at the features that make Jasper tick.
Jasper Boss Mode
Jasper Boss Mode is a feature that lets you instruct the software to create long-form content, specifically a blog post.
It is the most essential and most popular feature of Jasper.
Copywriting formulas
Jasper also has two copywriting formulas by which you can create your content. These copywriting formulas are:
These formulas let you take your readers through different emotional stages.
Jasper recipes
Jasper recipes are a number of templates that let you create and share instructions for Jasper to follow.
Using these recipes, you can create several content types, including:
Product review blog post
The hero's journey outline
Press release
Cold email
Blog post
But while Jasper is strong in these aspects, it could have a host of other features to complement its writing templates.
To this end, we have discussed some of the best Jasper alternatives with more features. You can click on the link to read it.
Jasper AI Pricing

Jasper has two pricing plans: Starter and Boss Mode.
The Starter plan is for creating short-form content. Think headlines, tweets, and Google ads. This costs you $29 per month.
The Boss Mode plan costs $59 monthly. This is for creating long-form content like blog posts, emails, and stories.
Our platform is a better alternative to Jasper in many ways, and we discuss why this is true in this article on Jasper vs. Copysmith.
7. Peppertype
Peppertype is an AI writing assistant. While it has many templates, it only writes short-form content.
These are its top features.
Content improver
Peppertype has some templates for improving existing content. Some of them are:
First to third person
Content rewriter
Content expander
Content download
One of the advantages of using Peppertype is downloading your content in a CSV format.
This is useful in case you have a lot of content to download. It also makes sense given its compatibility with short-form content, which is exactly what Peppertype generates.
Copywriting frameworks
Peppertype also comes with several copywriting frameworks. These are:
AIDA (Attention, Interest, Desire, Action)
BAB (Before-Afer-Bridge)
PAS (Problem, Agitation, Solution)
Feature to Benefit
Peppertype pricing
Peppertype's Starter plan is $25 monthly. With this, you'll have access to 50,000 words, request a content type, and add team members.
The Growth plan costs $165 per month. This comes with everything in the Starter plan, access control, content download, and team collaboration.
The last pricing plan is the Enterprise plan which comes with other exclusive features, such as bulk content generation, human quality checks, and plagiarism and grammar checks. It also gives you unlimited words.
Peppertpye doesn't support long-form content, but if that's important to you, you can find better alternatives in this review of Peppertype alternatives.
What are the Benefits of Using an AI Content Generator?
There are many benefits of using an AI content generator. Here are some of them:
Overcoming writer's block
As a human, you don't have the luxury of being active 24/7. And if you overwork yourself, the quality of your output will suffer. You may also become overwhelmed and eventually fall sick.
However, Artificial Intelligence and GPT-3, which the best AI content generators rely on, don't get tired. As long as you have access to it, it always works.
If you choose the right tool, you'll find an assistant in an AI content generator when getting started. And no matter how many times you use it in a day, it will always have fresh ideas. And that's a competitive advantage.
Speed
Speed is a necessity in today's business world. That's why we automate tasks in the first place.
If you can't get any of your content creation process automated these days, your competition will outdo you.
Using an AI content generator to create content will give you the speed you need. Creating a blog post, for example, usually takes hours. However, if you use an AI content generator, you could have your blog post up in 30 minutes or less.
Increasing efficiency
AI content generators also boost productivity by freeing up your space. Having more space means having more time to attend to other essential tasks.
And if you like, you may choose to spend it with your family. The result is the same: being more efficient.
Which AI Content Generator is Best for Marketers?
A good AI content generator should be able to meet your needs in the following ways:
Content creation automation
Enough copywriting templates to suit your marketing needs
Further automation options, like content export and bulk content generation
This is necessary because creating content with an AI is not the end, but a means to an end.
The end goal?
Become more productive and efficient and get more done in less time.
We believe that Copysmith is the best AI content generator for marketers because it has:
Content ideation features
Content creation features
Bulk content generation
Templates for different use cases
Integrations with relevant marketing tools and software
Workflow and in-app collaboration
If you are interested in trying out Copysmith, you can sign up for a 7-day free trial now and start writing for free (no credit card required)
Frequently Asked Questions about AI Content Generators
If, like most people who are new to the AI writing industry, you have been trying to find answers to some questions about AI content generators, here are they below.
What is the best AI content generator?
Copysmith is the best AI content generator due to the number of use cases it offers. Besides this, it has other perks that make your job easier. Content export is an excellent example of that.

How does an AI content generator work?
An AI content generator works by taking some information from you about your goal and then generating your content based on that.
Is AI-generated content plagiarism-free?
Not always. Sometimes, there may be some minor cases of plagiarism, and that's why some of them, like Copysmith, have a built-in plagiarism checker while some integrate with a third-party plagiarism checker like Copyscape.
Will AI content generators replace content writers?
No, AI content generators will not replace content writers. Instead, they'll make their job easier and faster.