AI writing software helps marketers automate parts or all of their content creation process.
They complement human content creation efforts by helping them become more productive and get more done in less time.
For example, if you struggle with writer's block and can't get the first few words out, they can help you get started with the ideation process or even a full content outline. They can also generate complete content with minimal effort from humans.
In this article, we'll discuss the six best AI writing software in the industry and assess their most prominent features.
Let's get into it.
Copysmith is our platform, and we built it to help eCommerce teams and agencies that want to create great content at scale. You can sign up for a 7-day free trial to see how it works. No credit card required.
Which is the Best AI Writing Software?
Choosing what AI writing software is best for you depends on the jobs you have to do. For example, if you are a marketer with a large team, your needs may differ from a solo freelance writer trying to write a press release.
But given that the fundamental use case of an AI writing tool is to make content creation easier and better, we have selected six tools that excel in this post.
We'll review them based on their features so you can see which one is best for your marketing needs.
1. Copysmith
Copysmith is an AI-powered copywriting platform for generating sales and marketing-related content.
Its main goal is to help marketers cut down on SEO research, eliminate writer's block, and wear one less hat to focus on what's most important.
If you are a marketer with a large team or own an eCommerce storefront, this is the best tool for your needs.
Let's analyze the features that make Copysmith stand out.
Copywriting templates
Templates are the types of content you can use an AI writing tool to generate.
For example, an AI writing software for eCommerce should have a product description generator.
Our platform has many templates in different categories.
Let's review some of them.
Content enhancer
The content enhancer is for tweaking and refining your paragraph.
There are several reasons why you may want to do this. One of them is when you want to change your tone of voice from casual to professional or any other tone. See an example in the screenshot below.
What we did here is to copy one of the paragraphs in this post, paste it into the content enhancer template, and choose 'Professional' as the tone of voice.
Our platform rephrased the paragraph and turned it into a professional-sounding paragraph, a far cry from the casual tone it was initially written in.
Blog Kickstarter
Similarly, Copysmith has Blog Kickstarter, a feature that helps turn your content from a mere idea into an outline and then into a blog post within a short period.
You start by typing in what your idea is.
From there, Copysmith will generate some themes and ask you to choose which one you prefer. If you aren't satisfied with any of them, you can generate more.
Once you make a selection, you'd be shown a list of outlines to select from.
When you select an option, proceed to review your outline.
Next, create a blog post. Here is an example:
As you can see, it is easy to transform a mere idea into a complete blog post using Copysmith.
Blog intro
Also, Copysmith can help you write your blog intro. This works with the blog idea generator, another template, to help you kickstart your creativity machine. It's beneficial if you are struggling with writer's block.
Suppose you want to write about the roles and responsibilities of a content marketer. Then, you can insert your post idea and let Copysmith take care of the introduction, like in the screenshot below.
These are some of the templates we have in Copysmith. Others include templates for social media posts, social media ads, Google ads, Amazon product descriptions, eBay product descriptions, etc.
Content export
Another unique feature of Copysmith is its content export feature. While many of its competitors only allow you to copy and paste your content, Copysmith allows you to download it in multiple formats.
Some of these formats are TXT, PDF, CSV, and Docx.
This saves you a lot of time and minimizes the errors that often occur when you copy and paste.
Also, each of these options has specific use cases. For example, if you want to send your content to teammates who don't need to edit it, you can download your content in PDF.
Also, if you wrote a lot of product descriptions, you can download them all at once using the CSV option.
Bulk content generation
Copysmith also supports bulk content generation. So if you have a lot of marketing projects at hand, you can use Copysmith to create different content at once.
Say, for instance, you run a large marketing agency and want to write a lot of blog post outlines for multiple clients. You can simply go under this bulk copy generation feature and upload a CSV file containing the details of your blog posts.
Copysmith would then take this information and generate the outlines all at once.
This covers many templates, including complete ad generation and product descriptions.
See an example of how to generate ad headlines in bulk below.
With this, you no longer need to manually generate the bulk of your content one after the other, as it's the case with most AI copywriting software.
You can do it all at once and save time and energy.
Integrations
Copysmith integrates with third-party software. Each of these integrations serves a particular purpose for our users.
Let's examine some of these integrations and why they are essential.
Microsoft Word
Copysmith integrates with Microsoft Word. This lets the user access Copysmith while working in Microsoft Word.
Think about this: You are a content marketer who is very used to the casual tone of writing for online readers, but now you are writing to professionals.
Using your access to Copysmith from your Microsoft Word, you can use the content enhancer feature to make your article sound more professional.
Google Docs
Copysmith also integrates with Google Docs. This will help you in many instances, such as when you want to get over writer's block or generate a blog outline using Copysmith.
Instead of opening two separate apps, you can have both in one place with this integration.
That way, you will not have to generate an idea on Copysmith in a different tab and then go back to Google Docs to use what you've just created.
Chrome extension
Copysmith exists as a Chrome Extension. This grants you easy access to our platform from your Chrome web browser.
Workflow and in-app collaboration
One of the prominent features of Copysmith is its workflow and in-app collaboration.
The in-app collaboration feature lets you bring your team members to the same virtual workspace while following their work progress in the workflow.
To use this feature, all you need to do is invite them using their email addresses:
Once they are in, you can assign everyone a task:
You can also follow the progress of each task by checking the workflow.
That's the work of Slack and Trello done using one app.
In a typical marketing setting, you'd assign tasks and monitor progress on Trello, discuss in Slack, and write in Google Docs.
However, you can have all these functions in one place using Copysmith.
Copysmith Pricing
Copysmith has three pricing plans: Starter, Professional, and Enterprise.
The Starter plan costs $19 per month. This gives you 50 credits, 20 plagiarism checks, in-app support, and integrations.
The Professional plan is $59 per month. This offers you 400 credits, 100 plagiarism checks, and everything in the Basic plan.
The Enterprise plan is where you gain access to exclusive features such as bulk content generation, in-app collaboration, and more. It also gives you unlimited credits.
Kindly book a demo with our team to learn more about this plan.
2.ClosersCopy
ClosersCopy is an AI writing tool designed to generate marketing copy. It's ad-focused and only generates short-form content.
Now, we'll look at some of ClosersCopy's core features.
Marketing copy
ClosersCopy has many templates, but it focuses on marketing copy such as email, sales letters, social media posts, etc.
Content analytics
Another essential feature of ClosersCopy is its content analytics.
This feature shows you weaknesses in your content and suggests areas for improvement. It also analyzes your email content to predict the likelihood of your email going into spam.
Thesaurus integration
ClosersCopy integrates with Thesaurus. This allows you to look for synonyms and antonyms to better polish your content when writing.
ClosersCopy Pricing
The ClosersCopy Starter price costs $29.99. It gives you access to all the basic features and lets you generate up to 45,000 words per month.
The Professional plan costs $49.99. This also gives you access to all basic features, plus 120,000 words.
The Unlimited plan costs $79.99. This gives you access to all features and three user seats. In addition, the number of words you can generate on this plan is unlimited.
If you're looking for other alternatives to Closerscopy, here's a post we published recently reviewing the best Closerscopy alternatives.
3. Copy AI
Copy AI is an AI-powered copywriting tool for creating marketing-related content.
This ranges from social media content to blog posts to eCommerce product descriptions. Below, we take a look at the essential features of Copy AI.
Social media content
Social media content is a major area of focus for Copy AI. This is evident in the number of templates that it supports.
This includes:
Hashtag generator
Launch your product
Relatable experiences
TikTok brainstorm topics
Video call to action
Instagram product showcase
YouTube video title.
First Draft Wizard
First Draft Wizard is a Copy AI feature for creating a blog post from scratch. First, you type in your idea, then Copy AI develops an outline and goes on to write the entire blog post.
In-app collaboration
Copy AI also has in-app collaboration where you and your team can work together.
This allows you to collaborate seamlessly and cut down the time you spend jumping from one app to another.
Copy AI Pricing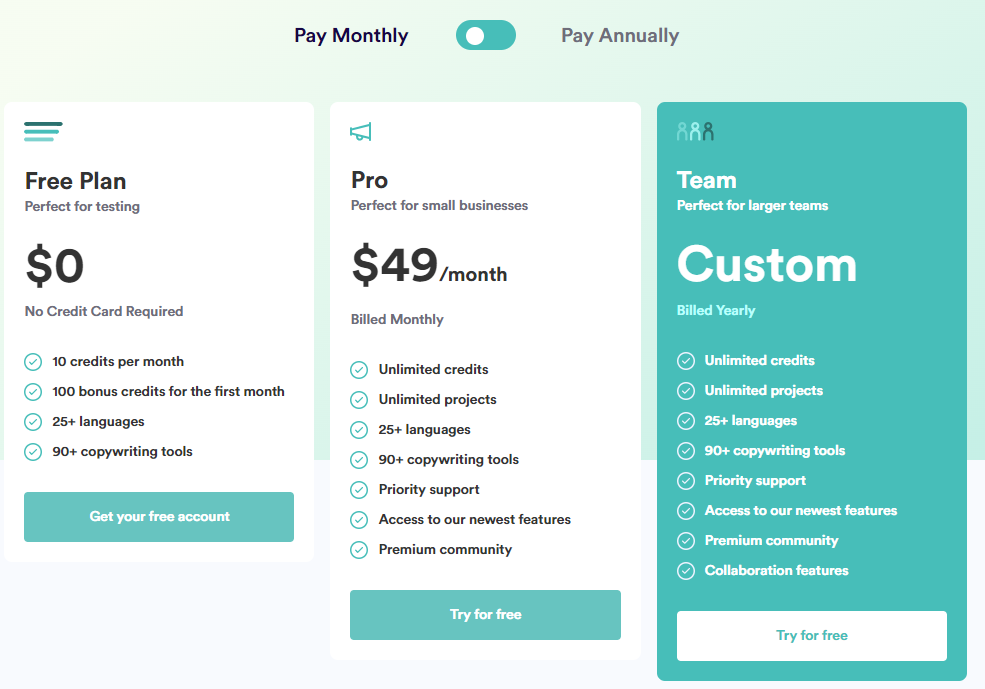 Copy AI has a forever-free plan. This plan gives you 100 credits in your first month and ten credits in subsequent months. In addition, you can access all the available templates on this plan.
The second pricing plan costs $49 per month. This gives you access to all available templates, unlimited words generation, and priority support.
The last pricing plan is the Custom plan. This gives you everything in the previous plans plus exclusive features like in-app collaboration.
If you'd like to learn more about how Copy AI compares to our platform, you can read our in-depth comparison of Copysmith vs. Copy AI.
4. Anyword
Anyword is a website content writing software for generating conversion-driven copy. Let's assess Anyword based on its core features.
Sales copy
Sales copy is Anyword's main forte. Its list of sales copy templates includes:
Pinterest Ads copy
Twitter Ads
Twitter Ads
LinkedIn Ads
Google Ads
Outbrain and Taboola headlines
Predictive performance score
Anyword has a feature known as a predictive performance score. This feature helps you evaluate the potential of your content to engage your audience.
It tells you how different demographics are likely to react to each copy variation and suggests areas for improvement.
Preset keyword library
Another popular feature of Anyword is the preset keyword library. This helps users preset some keywords they want to use in their content.
This may be anything from special announcements to feature updates to new arrivals.
Anyword Pricing
Anyword has three pricing plans: data-driven basic, data-driven unlimited, and Enterprise.
The Data-driven basic costs $79 per month. With it, you are allowed up to 30,000 words per month, access to blog post builder, scores and analytics, and one user seat.
The data-driven unlimited costs $239 each month. This gives you access to unlimited words, continuous optimization of your landing page, five-user seats, and everything in the data-driven basic plan.
The Enterprise plan costs $999 per month. It gives you access to everything in the previous plans plus further customization.
If you're looking for other alternatives to Anyword, we recently published an in-depth post on the best Anyword alternatives.
5. Jasper AI
Jasper AI is an AI writing assistant for creating long-form and short-form content. Let's have a look at Jasper AI's main features.
Long-form writing assistant
Jasper is popular for writing long-form content. While many other AI writing platforms now have their long-form writing assistants, Jasper was one of the earliest AI writing tools to allow this.
Jasper Recipes
Jasper Recipes are some of Jasper's templates that let you instruct the software on what to write. Its popular long-form writing assistant, Boss Mode, is one of those recipes.
Plagiarism checker
Jasper integrates with Copyscape, a plagiarism checker, as a way of helping users check their content for plagiarism.
This eliminates the back and forth of finding and using a plagiarism checker outside your Jarvis workspace.
Jasper AI Pricing

Jasper has two pricing plans: Starter and Boss Mode.
The Starter plan costs $29 per month, and it's for creating short-form content such as headlines, product descriptions, and tweets. Using the plan, you can generate up to 20,000 words.
The Boss Mode plan costs $59 per month. It's for creating long-form content like blog posts, emails, and reports. It allows you to create up to 10,000 words.
Want to know the differences between Jasper and our platform? Here is a comprehensive post on Jasper vs. Copysmith, which we recently published.
6. Peppertype
Peppertype is an automated copywriting software for creating content in various categories, although this is limited to short-form content.
Let's have a look at some of the Peppertype's main features.
Copywriting frameworks
Peppertype is enriched with several copywriting frameworks to select what form you want your copy to take.
These include
AIDA (Attention, Interest, Desire, Action)
BAB (Before, After, Bridge)
PAS (Problem, Agitation, Solution
Feature to Benefit.
Content export
Peppertype allows you to export your content in a CSV format. This saves you from going through the stress of copying and pasting, and it's handy if you have a lot of copy to download.
Content rephrasing
Another strong use case for Peppertype is its content rephrasing templates. This lets you take your content from average to great by helping you polish up the flow and grammatical structure.
Peppertype Pricing
Peppertype Starter plan costs $35 per month. On this plan, you can generate up to 50,000 words, add team members, and access all available templates.
The Growth plan is upward of $199 per month. This allows you to create 50,000 words and gives you everything in the Starter plan. In addition, it comes with collaboration and sharing results, downloading your content, and access control.
Lastly, Peppertype has an Enterprise plan. This allows unlimited generations, bulk content generation, custom widgets and integration, and a lot more.
If you're looking for other alternatives to Peppertype, we recently published an in-depth review of the best Peppertype alternatives.
Which AI Writing Software Should You Choose For Your Marketing Needs?
In this article, we have reviewed the six best AI writing software for marketers and content creators. This includes:
Copysmith
ClosersCopy
Copy AI
Anyword
Jasper AI
Peppertype
Making the right choice shouldn't be hard once you understand that what you need is a tool that helps you automate your process as much as possible without jeopardizing your work quality.
First, you'd want to see if it has enough templates to serve your marketing needs.
Then, you'd check to see how far they support the automation process of other things that surround content creation, such as:
Content export
Bulk content generation
Integration with other tools
Workflow and in-app collaboration, etc.
This is because the more automated your work can be, the more you free up your time. And the freer you are, the more you can delve into other important tasks and enjoy time with your family and friends.
With Copysmith, you have access to innovative features that help you become more productive and achieve more in less time. This is why we believe that it's the best AI writing software.
If you work in a large marketing team and need to create great content on-demand, sign up for a 7-day free trial on Copysmith now and start writing for free. No credit card required.
Frequently Asked Questions About AI Writing Software?
Since the AI writing industry is relatively new, there are many questions users, and potential users alike are asking. In this section, we'll answer some of those.
What is Artificial Intelligence or AI Writing Software?

An AI writing software helps you automate parts or all of your content creation process. Usually, they create content with the help of a human being who feeds them with details about what to write.
How Much Does AI Writing Software Cost?

For AI writing software, prices vary. This could be anything from $9 to $1,000, depending on the tool and the plan you are signing up for. Copysmith pricing, for example, starts at $19 per month.

Is AI-based Writing Good for Content Creators?

Yes, AI-based writing is good for content creators because they help you to create more content with less manual effort.
Why Should I Use AI Writing Software?

You'd want to use AI writing software if you are looking to write faster, get over writer's block, and minimize the amount of time you are used to spending on creating content. The goal of AI writing software is to increase productivity through automation.