Anyword is a popular AI copywriting software that generates short-form content such as blog outlines, blog post ideas, and emails. However, its high pricing structure, complex usability, and lack of a long-form content template are some of the reasons its users seek other alternatives.
If you want to switch from Anyword and looking for the best alternatives that'll be ideal for your marketing needs, you are in the right place.
In this article, we'll share the six best alternatives to Anyword, their unique features, pros, and cons.
Let's dive right in.
Copysmith is our platform, and we specifically built it for large marketing teams who need to create great content at scale? You can sign up for a 7-day free trial now and start writing for free. No credit card required.
6 Best Anyword Alternatives and Competitors
Let's review the top Anyword alternatives below, and see how each of them compares to the AI writing software.
1. Copysmith: The Anyword Alternative For Large Marketing Teams
Copysmith is an AI copywriting tool for generating high-quality content for different marketing and sales needs.
We built it to help users overcome writers' block, avoid burnout, and create great content at scale.
While its output and use cases make it useful for anyone creating content using artificial intelligence, its unique and proprietary features make it the best copywriting software for large marketing teams such as:
eCommerce storefront owners
In-house marketing team in large enterprises
Large marketing agencies
To show you why it serves those user segments better than anyone else, let's take a look at some of its stand-out features.
Copysmith Core Features
Here are the features that make Copysmith the best Anyword alternative for large marketing teams.
eCommerce Product Description Templates
Our platform supports the following ecommerce product description templates:
Product review replies
Instagram product description
eBay product description
Flipkart product description
Etsy product description.
Another interesting Copysmith feature for eCommerce owners is its integration with Shopify and WooCommerce. This allows users to upload their product descriptions directly to Shopify or WooCommerce from their workspace.
You can see a Shopify icon at the top right corner in the screenshot below. With this, you can upload your generated product descriptions to Shopify if you have connected the two accounts.
That's not all.
Copysmith also allows users to generate their product descriptions in bulk.
All you have to do is to upload a CSV file with your products' details, enter some required information, and it will take care of the rest.
The screenshot below shows you how this feature works on our platform:
With the bulk copy generation feature, you can save time and money in generating product descriptions.
That way, you can create tons of product descriptions with minimal friction and have more time to work on other essential tasks.
Bulk Content Generation
You can also generate other content types in bulk using our platform.
Some of these include:
Headlines
Blog outlines
Facebook ads
Google ads
Product descriptions
SEO meta tags
Let's take the Google Ads template, for example.
If you are a marketer in a large marketing agency, you'd most likely be creating multiple ads for clients.
With this feature, you will no longer delay your client's ads because you are too busy to create content.
All you have to do is enter the details about your company and import a CSV with information about your Ads, and our platform will handle the rest.
Rather than poring over endless details to generate ads copy, you'd have more time to focus on other productive activities that move the needle business-wise.
Content Export Feature
Content export/download is one of the must-have features of an AI copywriting tool, but most don't support it.
At Copysmith, we understand that marketing is a team effort.
So, we built our platform to support content export in different formats: CSV, TXT, Docx, and PDF.
In the screenshot below, you'll see the export feature at work and how easy it is to use:
All you need to do is select the specific format you want to export your content to.
You can go through the generated content offline, share the PDF format with a senior colleague for approval, or get more insights and contributions from other team members.
Integrations With Third-party Tools
Copysmith integrates with many third-party apps. These integrations help minimize jumping between apps as much as possible, hence helping you to become more productive.
Let's look at some of these integrations one after the other.
Google Docs Integration
Most marketers use Google Docs daily for content creation.
When you connect Copysmith to Google Docs, you can access the platform in your Google Docs account.
So, instead of opening Copysmith in a separate tab for quick ideation or writing an outline, and then coming back to Google Docs to begin writing, you can do all that in one platform, all thanks to this integration.
Zapier Integration
Copysmith also integrates with Zapier. This enables you to connect your Copysmith account with some of the most widely used apps, thereby significantly building a robust workflow and cutting your manual tasks.
WooCommerce Integration
Our integration with WooCommerce allows you to access Copysmith directly from your ecommerce website.
Rather than using our platform to generate product descriptions, you can now do that directly from your website.
With this, you can write product descriptions directly on your website and improve your existing content by updating them live using our platform.
Workflow and In-app Collaboration
At Copysmith, we know that creating good content is a team effort, so we built a collaboration space on our platform so that you can bring your team members in.
This reduces the friction that marketing teams often have to deal with when creating marketing content.
In most marketing teams, the head of marketing, content strategist, writer, and editor are involved in the content creation process.
While collaborating on content projects, it's easy to get overwhelmed by jumping between apps.
Our platform reduces this friction with its workflow feature.
Here is what it looks like:
From here, you can monitor the progress of your tasks and keep a close tab on whom each task is assigned to.
But that's not all.
You can invite team members to join you in-app via their email addresses, as shown in the screenshot below:
You can also assign them tasks so you'd know who's responsible for specific assignments and projects using the Role button:
As you can see, with our platform, you'll be potentially cutting off many collaboration apps that cost you more money and space.
Plagiarism Checker
Copysmith comes with a built-in plagiarism checker that's available to all users.
Most Copysmith alternatives, on the other hand, require you to use a third-party site to check your content for plagiarism. In some cases, they ask you to pay an additional fee before accessing the feature.
After generating the content on our platform, click the plagiarism check icon you'd see by the top right corner of your workspace:
If your content is plagiarism-free, you'd see a notification like this:
And if any part of your content is plagiarized, here's the notification that it shows:
Copysmith Pricing
Copysmith has three pricing plans: Starter, Professional, and Enterprise.
The Starter plan costs $19 per month. With this plan, you would get 50 credits, 20 plagiarism checks, integrations, and in-app support.
The Professional plan is $59/month. It gives you 400 credits, 100 plagiarism checks, integrations, and in-app support.
The Enterprise plan gives you unlimited credits, plagiarism checks, bulk import and export, integrations, in-app support, a dedicated account manager, and customization options.
Kindly schedule a demo with our team so we can best fit your needs.
2. Writesonic
Writesonic is an AI-powered content generator for writing and paraphrasing. It writes both short and long-form content.
Here are the core features of Writesonic, which make it one of the top alternatives to Anyword.
Long-form content
Writesonic's long-form article template is one of its prominent features. It helps create blog posts, long-form social media content, and reports.
Exists as a plugin
Writesonic also has a plugin that you can access from your WordPress website. So, you can use the software while working on your website.
Multiple variants for each output
Each content you generate with Writesonic gives you multiple outputs. Hence, you can select the output you feel best suits your intent.
Now that we have discussed some of the core features of Writesonic let's look at some of its cons, which will help you make an informed decision.
Cons of Writesonic
Here are the downsides of Writesonic, which might make you opt for its alternatives and competitors.
Editing your content costs more credits
Writesonic doesn't differentiate between the content it generated and the ones you added manually when creating content.
Hence, if you are using Writesonic to create content, you cannot edit it in-app unless you want to consume more credits than you planned for.
Instead, you'll paste your content elsewhere for proper editing, which can cause a lot of back and forth.
Doesn't have a plagiarism checker
Another downside of Writesonic is that it doesn't have an in-built plagiarism checker nor integrate with one.
Since the AI writing assistants are trained using information from the web, plagiarism can sometimes be an issue. Therefore, a good AI writing tool should easily help users check for plagiarism.
Doesn't support bulk copy generation
If you work in a large marketing agency or own an eCommerce store and need to create content in bulk, Writesonic can't help you.
To generate different types of content at once, Copysmith is your best bet.
Writesonic Pricing
Aside from its forever-free plan, Writesonic has four pricing tiers.
The cheapest one is the Basic plan, which costs $15 per month. It gives 100 credits and access to all the basic features.
The professional plan costs $45 per month. This plan would give you everything you see in the Basic plan, plus unlimited credits.
The third plan is the $95/month Startup plan. This gives you two user seats, priority support, and everything in the Professional plan.
The Agency plan costs $195 per month. And it gives you access to four user seats, priority support, and every single feature of the software.
Check out this comprehensive Writesonic vs Copysmith post to learn more about how it compares to our platform.
3. Copy AI
Copy AI is an automated copywriting software for generating marketing-related content. Below are the unique features of Copy AI. Here are some core features of Copy AI, making it one of the best alternatives to Anyword.
Social media templates
Copy AI offers up to 16 social media content templates, making social media its primary focus.
Here are some of the templates it supports for social media platforms:
Carousel posts
Crazy YouTube ideas
Hashtag generator
Instagram captions
Relatable experience.
Rich text control
Copy AI supports rich text control. One of the benefits of this feature is that it saves you from implementing rich text control from scratch when you are finally ready to use your content elsewhere.
In-app collaboration
Copy AI also has an in-app collaboration feature only available to enterprise customers.
That said, below are some of the cons of Copy AI.
Cons of Copy AI
There are some areas where Copy AI may not serve its users well. So, you might need to opt for other Copy AI alternatives because of these.
Let's examine some of the downsides of this software:
Doesn't support long-form content
Copy AI doesn't have a template for creating long-form content. Hence you can't generate blog posts, long-form emails, and long-form sales copy with the software.
Doesn't have an SEO feature
Copy AI doesn't have a feature for search engine optimization. So if you are optimizing content to rank on search engines, you'd have to use a different tool.
The better alternative is to choose an AI writing tool that supports this feature.
Copysmith, for instance, integrates with Frase so that users can optimize their content for search engines.
Doesn't support content export
Another downside to Copy AI is its lack of support for content export. As a result, any content you generate using the software must be copied and pasted before you can use it elsewhere.
Copy AI Pricing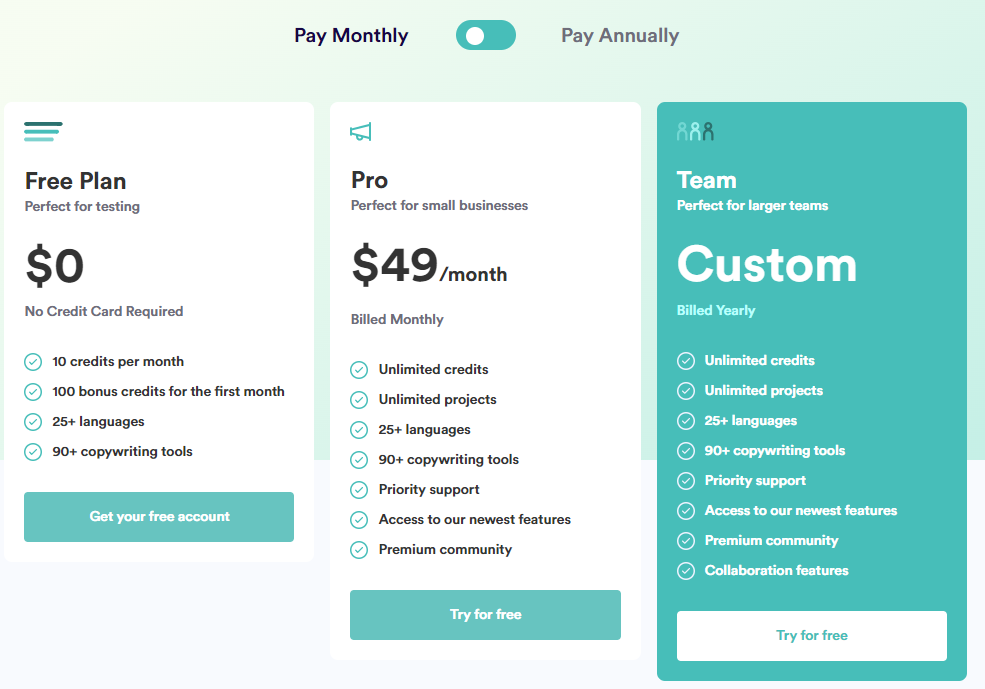 Copy AI has a forever-free plan for those who want to test the tool. In your first month of signing up, this plan gives you 100 credits for content generation and then ten credits in each subsequent month.
The Pro plan costs $49/month. This gives you unlimited credits, access to all templates and the premium community.
And lastly, it has the Enterprise plan. This gives you unlimited credits, in-app collaboration with your team members, and priority support.
We recently published an in-depth post comparing Copysmith and Copy AI.
4. Jasper AI (Jarvis)
Jasper AI (previously Jarvis AI) is an AI-powered copywriting assistant well-known for its long-form content creation feature. To better understand how Jasper can serve you, we'll highlight some of its core features, making it an alternative to Anyword.
Boss Mode
Jasper Boss Mode is a long-form content writing assistant, and it's the most popular feature among Jasper users.
Copywriting frameworks
Another interesting feature of Jasper is the copywriting frameworks.
With these frameworks, you can choose the form you want your copy to take, such as PAS (Problem, Agitation, Solution), AIDA (Attention, Interest, Desire, Action), BAB (Before After Bridge), etc.
Surfer SEO Integration
Jasper integrates with Surfer SEO, making it easy for users to optimize their content for search engines without paying for another tool.
Cons of Jasper
There are some features that Jasper doesn't support, which might make you opt for other Jasper alternatives.
There is a steep learning curve
To use Jasper to its best capacity, you must dedicate a ton of time studying the product.
For example, Jasper's blog post writing assistant template isn't just something you click on and start generating content.
There are some tricks to get it right, and you'd need to watch a tutorial repeatedly before you can grab it all.
Outputs require a lot of fact-checking
Jasper content requires thorough fact-checking before you can use it. This is applicable across the board, but a good example is when you use Jasper to write a pricing section.
Most of the pricing plans Jasper would write are either completely wrong or generated from an unrelated article.
No content export feature
Jasper doesn't support content export. Instead, you'd have to copy and paste your content elsewhere before you can use them.
For a tool that's popular for generating long-form content, this makes editing outside the app a rather sluggish activity.
If you want to know how Jasper compares to Anyword, check out this in-depth comparison post we wrote about Anyword vs Jasper.
Jasper AI (Jarvis) Pricing

Jasper has two pricing plans: Starter and Boss Mode.
The Starter plan costs $29 per month, and it's strictly for short-form content like headlines, tweets, and product descriptions. With this plan, you can generate up to 20,000 words and have unlimited user logins.
The Boss Mode plan starts at $59 per month. This plan allows you to create long-form posts like blog posts, reports, and stories. With it, you can generate up to 50,000 words.
You can read our comprehensive comparison of Jasper vs. Copysmith, recently published.
5. Peppertype
Peppertype is an AI-powered tool for automating the process of content ideation and generation. Below are some of the unique features of Peppertype, which makes it one of the top Anyword alternatives.
Content download in a CSV format
Peppertype allows users to download content in a CSV format.
With this feature, you can quickly download your content from the software and use it elsewhere, whether online or offline.
It's important to mention that Copysmith offers more options in this aspect. For example, you can export content in CSV, PDF, TXT, and Docx formats using our platform.
Sentence Rephraser
Peppertype has a template for rephrasing existing content or the one generated using the software.
This feature helps make your content readable and appealing.
Plagiarism checker
Instead of generating your content in Peppertype and checking for plagiarism in another software, this feature allows you to do all that using Peppertype.
Peppertype isn't without its downsides. Let's a look at some of them below.
Cons of Peppertype
There are several features that Peppertype doesn't support, even though they are must-haves for an AI copywriting tool. Below are some of them, which might make you choose other alternatives to Peppertype.
Doesn't support long-form content
Peppertype doesn't support the creation of long-form content. So if your goal is to create blog posts, sales copy, emails, and reports, it is not the right tool for you.
Doesn't integrate with third-party apps
Peppertype doesn't integrate with any third-party app.
This is a downside because integration makes it easier for content creators to do more in less time.
For example, Copysmith integration with Shopify enables users to upload content to their Shopify storefront directly from their workspace.
This feature gives you an edge over your competitor, who doesn't have access to it.
Peppertype Pricing
Peppertype's Starter plan costs $25 per month. With this plan, you'd be able to generate 50,000 words and access all its 20+ content types.
The Growth plan costs $165 per month. With this plan, you can generate 50,000 words, add team members, collaborate and share results, and download your content.
The last plan is the Enterprise plan. This gives you unlimited credits, brand voice, bulk content generation, and other advantages.
6. ClosersCopy
ClosersCopy is an AI copywriting software for generating content for advertising, marketing, and sales needs. This includes newsletters, social media ads, and blog posts. Below are some of the unique features that make ClosersCopy one of the best alternatives to Anyword.
Segmentation of copywriting model
ClosersCopy segmented its AI writing model to enable users to get what they need quickly and easily.
They have SalesAI for generating sales pages, ads, and email campaigns.
They have BlogAI for generating blog posts.
Lastly, they have StoryAI for writing compelling stories.
Content analytics
ClosersCopy content analytics feature gives you insights into weaknesses in your copy and suggestions on how to fix them.
In-app collaboration
You can invite your team members into ClosersCopy for collaboration, assign them tasks, and permit them to check any project you want.
That said, Closerscopy is not perfect. So, let's examine some of its downsides.
Cons of Closerscopy
Now that you know some of the features of ClosersCopy, it's also essential to understand its limitations so you'd see if it's a tool you want to go for.
Below are some of them:
Lack of content export feature
Before you can use any content you generate on ClosersCopy elsewhere, you must copy and paste it manually.
This significantly increases the amount of time you spend on content creation as opposed to being able to download your content directly.
No integrations
Closerscopy doesn't integrate with any third-party tool. This would have benefited many of its users using the content across different platforms.
At Copysmith, for example, we know many of our users create social media content. So we integrated with Hootsuite, enabling anyone to schedule and publish their post on social media immediately after generating them on our platform.
Lack of bulk content generation
Another downside of ClosersCopy is that it doesn't support bulk copy generation.
If you work in a large marketing agency and need to create content at scale, this doesn't help you do your work efficiently. Hence, you might consider these best Closerscopy alternatives, if this feature is essential to your marketing team.
Closerscopy Pricing
The Starter plan on ClosersCopy costs $29.99 per month. With this plan, you can generate 45,000 words, create long-form content, and use all available templates.
The Professional plan costs $49.99 per month. This comes with similar options as the Starter plan but increases your word count limit to 120,000.
The Unlimited plan costs $79.99 per month. This gives you access to all features, unlimited words, and three seats.
Which Anyword Alternatives Should You Choose For Your Marketing Needs?
In this post, we've reviewed the six best alternatives to Anyword.
This includes:
Copysmith
Writesonic
Copy AI
Jasper
Peppertype
ClosersCopy
Now you may be wondering…
Which of these options is the best Anyword alternative?
The simple answer is; the one that helps you do your best job as a marketer.
Truth is…
If all AI writing assistants generate content using artificial intelligence and GPT-3, then the best tool should offer additional features in terms of speed and efficiency. Hence, making you more productive and helping you achieve more in less time.
In that regard, Copysmith ticks more boxes than any of the tools on this list. Hence, we believe that it is the best Anyword alternative.
Want to see it in action? Sign up for your free 7-day trial now and start writing for free. No credit card required.