ClosersCopy is an AI writing tool for creating long-form and short-form content. It also comes with features such as SEO audit and SEO planning.
However, its entry price of $49.99 per month is higher than most of its peers. And you sometimes have to regenerate your content a few more times before you can get the desired result.
This and many more are some of the reasons that ClosersCopy users are seeking better alternatives. If you are here for the same information, this article will help you greatly.
To help you make the right choice, we narrowed this review down to the six best ClosersCopy alternatives, and we will tell you how each of them can serve you.
Let's get started.
Copysmith is our platform, and we built it for large marketing teams who need to create great content at scale. You can sign up for a 7-day free trial of Copysmith and start writing for free. No credit card required.
6 Best ClosersCopy Alternatives and Competitors
We selected these ClosersCopy alternatives based on our experience with them. Hence, we will share their core features, pros, and cons with you in this post.
Read on.
1. Copysmith: The Best ClosersCopy Alternative for eCommerce & Large Marketing Teams
Copysmith is an AI content creation tool for creating marketing-related content. It is best for eCommerce storefront owners, large marketing teams, and in-house marketing teams in large enterprises.
If you are looking for a platform to help you beat writer's block and minimize burnout, it is your best option.
It creates content on-demand and has templates for different marketing needs like ideation, outline, content creation, and more.
Below, we will discuss some of Copysmith's most prominent features.
Let's get into it.
AI copywriting templates
Copywriting templates are found in every AI copywriting software. They are the type of content you want to write and define which kind of content will fit your needs most.
Say, for example, your objective of using an AI writing tool is to write Google ads. In that case, you need a tool with a Google Ads template.
In this regard, Copysmith is versatile but has some focus areas. It's, therefore, best for eCommerce product descriptions, blog posts, and ads.
For instance, there are many templates in the product description writing section. Some of them are:
Instagram product description
eBay product description
Amazon product description
Etsy product description
Product reviews reply
Flipkart product description
And more.
Let's put the Etsy product description template in action as an example.
Using Copysmith to write a product description about a wireless router for an Etsy storefront, below is what the result looks like:
As you can see in the screenshot above, our platform wrote an entire product description completely different from the barebone information we initially fed it with.
Copysmith can also help you in building a blog post from scratch.
All you have to do to get started is type in your idea:
It will show you some ideas on what you should be focusing on in your post, like this example below:
If you aren't satisfied with the suggestions, click on Generate More to get more ideas.
Once you are done with these steps, you will also be shown several outlines to choose from:
Here, there are many options, but you can also get more using the Generate More button.
If you have selected the outline of your choice, you will be given options to remove or rearrange them:
From here, our platform can help you create a comprehensive blog post like the one below:
This is a straightforward and effortless way of writing a professional blog post, even if you aren't a professional.
Now, there are many other templates in Copysmith aside from these two. Some of them are:
Article summary
Content enhancer
Short sales email
Facebook Ads
Instagram Ads
Google Ads
Plagiarism checker
Having seen that Copysmith can generate quality and compelling copy, your next source of concern would be, "is the content original?"
We built a plagiarism checker in our software, and it can detect even the barest semblance of plagiarism.
It's located at the top right corner of your workspace, and it's just a click away.
Here is an example:
If your content is plagiarism-free, you will get a notification like this one instead:
With this feature, you can rest assured that no one will penalize you for plagiarism because you use an automated copywriting tool.
Bulk content creation
Another significant advantage of using Copysmith is creating lots of content at once.
This feature, known as bulk content creation, permits you to import a CSV with details of different content under the same category.
For instance, if you want to write Google ads in bulk for A/B testing purposes, you can import a CSV file containing information about each ad in different rows.
Your CSV will look like this:
It doesn't make any difference if you want to generate 10 or 1,000 Google Ads copy for yourself or clients, our platform will write it at a go, and you can export your content back in a CSV.
This saves you time, money, and mental energy. Imagine if you need to write 100 Google ad copy for different clients and need to come up with fresh content for each of them in a short period?
Your options are:
Extend the deadline and risk irking your client
Hire a lot of freelance writers and spend too much
Take it on with your team and deal with harsh burnout
Averting all these unpleasant situations is the essence of automation, and that's exactly what our platform does.
Content export
Having created your content using our platform, you might be wondering how to export it to your platform of choice.
The only option in most AI copywriting tools is to copy and paste. Unfortunately, this increases the error margin and slows you down more than necessary.
With our platform, you can export your content in different formats. Options include TXT, PDF, CSV, and Docx.
If you want to use the generated for any online or offline purpose, you don't have to worry, thanks to these export options.
For example, if you want to share the content with your team members on Slack, you can download it in PDF.
If you have created bulk content meant to serve different purposes, you can download it in a CSV.
And by doing this, you will eliminate a lot of errors that might occur as a result of copying and pasting and get things done at a record speed.
Integrations
Copysmith integrates with several software and apps. From Zapier to Google Docs to Frase, these are integrations built with our users in mind.
Let's look at some of them, beginning with Frase.
Frase
What our Frase integration does is that it suggests secondary keywords you can use in your content to increase its chances of ranking high on Google.
While specifying the purpose of your content, you'll be prompted to insert your primary keywords.
Once you do that, Frase will suggest secondary keywords that can improve your search rankings.
Here is an example:
What's most interesting about this feature is that you don't need a separate Frase account to use it.
This is very useful for those writing product descriptions, blog posts, and SEO content.
WooCommerce
If you own an eCommerce site on WordPress, this integration will help you use Copysmith directly from your website.
With this, you can update the content live using Copysmith and write and upload product descriptions without going back and forth.
This minimizes the time you spend writing product descriptions and eliminates the hassle of switching between apps.
Google ads
If you own a Google ads account, you can connect it to Copysmith.
What this means for you and your team is that each ad copy you create on our platform can be published directly to your Google ads account.
Making these two accounts work together expedites the process of ad creation and publishing. It's a huge advantage in speed and productivity.
Workflow and in-app collaboration
If you work in a large team, you'll want to collaborate with your team members and monitor your tasks' progress. And that's where our workflow and in-app collaboration come in handy.
We built it so that you and your team members can collaborate in one place. To bring them on board, send an invite using their email address:
While working in-app, you can also assign them roles such as editor, copywriter, or even content distributor.
With this, you can follow the progress of each task. You can also know when last they worked on it and who is working on each one by checking the workflow, like in the screenshot below:
This helps you closely monitor the progress of your ongoing projects and marketing campaigns.
Copysmith Pricing
Copysmith's pricing plans are Starter, Professional, and Enterprise.
The Starter plan costs $19 per month. With this plan, you'll have access to 50 credits, 20 plagiarism checks, in-app support, and integrations.
The Professional plan comes with everything in the Starter plan and increases your credits to 400 and plagiarism checks to 100. This costs $59 per month.
It is worth noting that each of these comes with a 7-day free trial that you can try out now.
The Enterprise plan gives you unlimited credits, unlimited plagiarism checks, content import and export, workflow, and in-app collaboration, among other exclusive features.
Book a demo with our team members to learn more about this.
2. Peppertype
Peppertype is an AI-powered writing assistant for marketers. However, it only creates short-form content.
To better understand how it might help you, here are some of its core features below.
AI copywriting templates
Peppertype has many templates across different categories. It's, however, best for creating short-form content such as social media post captions, one-liner quirky tweets, SEO–optimized meta descriptions, etc.
Content export
Peppertype gives you the option to export your content in a CSV format. This is helpful for users because it focuses on short-form content like meta descriptions, tweets, and ads.
If you are creating multiple versions of each template, it would be easier for you to download them in a CSV format rather than copying and pasting them one after the other.
Content rephrasing
Another vital use case for Peppertype is the content rephrasing feature. It has several templates specifically dedicated to making your content better. These are content rewriter, content expander, and first to third person.
Peppertype also has some excellent alternatives that we have reviewed in the past. Click on the link above to learn more about them.
Peppertype Pricing
Peppertype's Starter plan costs $35 each month. With this plan, you can generate 50,000 words, add team members, and access all the available templates.
The Growth plan costs $199 per month. This also allows you to generate 50,000 words. In addition, it comes with more features like result download, access control, collaborating and sharing results, and everything in the Starter plan.
The last plan is the Enterprise plan, where you get unlimited words, bulk content generation, and exclusive grammar and plagiarism checks, among other features.
3. Writesonic
Writesonic is an AI writing assistant for creating blog posts, ad copy, and website content.
Below, we'll assess some of its major features.
AI copywriting templates
Writesonic has several AI copywriting templates, but it's focused on writing long-form posts.
The AI Article and Blog Writer are its major templates. Things they do include writing articles and blog posts, drafting professional emails, rephrasing and rewriting content, and fixing grammatical errors.
Plugin
If you want to be using your automated writing software mainly from your WordPress blog, Writesonic exists as a plugin. You can rely on this plugin to write your website content without exiting your Content Management System (CMS).
Copywriting frameworks
Writesonic also comes with several copywriting frameworks, including:
Pain-Agitate-Solution (PAS)
Feature to Benefit
Attention, Interest, Desire, Action (AIDA)
These frameworks define different stages of emotion you'd like to take your reader through in their reading journey.
For example, the PAS framework describes the reader's pain in the introduction of the content. It then agitates the problem further and eventually proffers a solution to that problem.
You can choose any of the three formats as the basis of your content.
Want to know how Writesonic compares to our platform? Here is an in-depth Writesonic vs. Copysmith post we published recently.
Writesonic Pricing
Writesonic's Basic plan pricing costs $15/month. This gives you 100 credits, one user seat, and SEMRush integration.
The Economy plan offers you 750 credits, one user seat, and SEMRush integration. It costs $25 per month.
The Professional plan costs $45 per month. On this plan, you'll have access to unlimited credits, one user seat, and SEMRush integration.
And lastly, there is the Startup plan which goes for $95 per month. This, too, gives you unlimited credits, SEMRush integrations, and two user seats.
We recently published this in-depth review of the best Writesonic alternatives. Check it out if you'd like to learn more.
4. Jasper AI
Jasper is an automated copywriting software for creating diverse types of content such as blog posts, press releases, and stories.
The following is a highlight of Jasper's most notable features.
Jasper Recipe
Jasper Recipes are a set of templates that let you give Jasper orders on things to write.
It primarily covers its long-form writing templates, such as how-to posts.
Boss Mode
Jasper's Boss Mode is a long-form writing assistant in Jasper. It is the AI tool's most popular feature for writing blog posts.
Plagiarism checker
Jasper integrates with Copyscape to make plagiarism checking a seamless task for users, although this comes at an additional cost.
Our platform, however, offers this to all users for free based on their level of subscription.
If you'd like to learn more about how our platform compares to Jasper, check out this in-depth Copysmith vs. Jasper AI post on our blog.
Jasper AI Pricing

Jasper has two pricing plans: Starter and Boss Mode.
Jasper's Starter plan costs $29 per month. This is for generating short-form content like tweets and headlines.
The Boss Mode plan is $59 per month, and it is for creating long-form content like blog posts and emails.
If you are looking for other AI copywriting tools with more features, you can check these Jasper alternatives.
5. Copy AI
Copy AI is an AI writing software that helps users create marketing and editorial content.
The following are its top features:
Copywriting templates
Copy AI has several copywriting templates for different use cases. However, its social media templates are much more well-defined.
The social media section alone has 16 templates, including:
Short text hook
Hook generator
YouTube description intro
Carousel post
YouTube ideas
Hashtag generator
Rich text control
One of the advantages of using Copysmith is the rich text control which lets you apply all sorts of text control to your content while in your workspace.
This means that when you are ready to use your content outside Copy AI, you won't have to spend too much time styling it.
Multiple variations for each content
For every content you create using Copy AI, you'll have multiple variations of your result to choose the one that's best for you.
Since AI copywriting isn't perfect, having more than one option allows you to choose one that suits your interest the most.
You can check out this review of the top Copy AI alternatives to learn more about other AI writing tools you can use.
Copy AI Pricing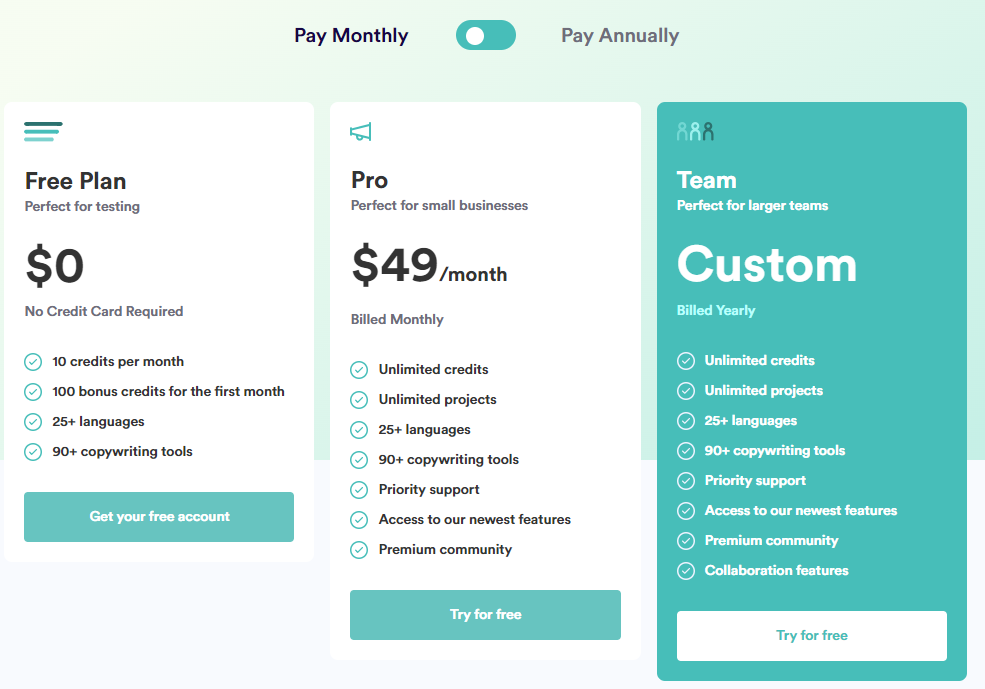 Copy AI has a forever-free plan. If you are on this plan, you'll get 100 credits to test the tool out in your first month and ten credits in the subsequent months. This plan also allows you to use all available templates.
The Pro plan costs $49 per month, and it gives you unlimited credits and access to all templates.
The final pricing plan is the Enterprise plan which gives you everything in the previous plans and other exclusive options like collaboration features. This also gives you access to unlimited credits.
If you'd like to know the differences between our platform and Copy AI, you can read this in-depth comparison post we wrote on Copysmith vs. Copy AI.
6. Anyword
Anyword is an AI writing assistant for creating marketing and advertising copy.
To see if Anyword is the right tool for you, let's discuss some of its best features.
Copywriting templates
Anyword is best for any copy to convert the readers, whether this is landing page copy, ad copy, or product description. Its templates are designed for this purpose.
Predictive performance score
Anyword has a predictive performance score which tells the user how likely their copy is to resonate with the reader.
These insights make your content better for the reader and eventually drive the desired action.
Preset keyword library
In Anyword, you can prest some of the keywords you want to use in your content, such as new feature announcements, new product announcements, coupons, etc.
This is known as Preset Keyword Library, and it makes your task of writing copy a whole lot easier.
Anyword Pricing
Anyword pricing plan starts at $79 per month. This comes with 30,000 credits per month, score and analytics, and one user seat.
The second plan is $239 per month. This gives you access to unlimited credits, five user seats, and everything in the basic plan.
The last pricing plan on Anyword is the Enterprise plan. This costs $999/month. It gives you everything in the previous plans and widens your options with perks like custom models, custom number of seats, brand guidelines filters, and so on.
Here is an in-depth post we wrote about the best Anyword alternatives. Check it out if you'd like to learn more.
Which ClosersCopy Alternative Should You Choose For Your Marketing Needs?
Having read through a review of the six ClosersCopy alternatives, now you'd want to make a choice.
Start by defining your goal, and then look at which tool can help you achieve that quickly and easily.
We believe that Copysmith is the best ClosersCopy alternative, especially if you work inw eCommerce or a large marketing team.
Here is why…
The essence of adopting an automated copywriting software is to write great content and automate as many parts of the process as possible.
To this end, Copysmith doesn't only offer you enough copywriting templates for different use cases; it also comes in handy in ideation and gives room for a lot more things than other alternatives.
For context, here are some of the Copysmith features that you'll hardly find in other AI copywriting tools:
Bulk content creation
Content export in multiple formats
Workflow and in-app collaboration
In-built plagiarism checker
Lots of third-party integrations
Sign up for a 7-day free trial of Copysmith now to see it in action. No credit card required.