What is the difference between Copysmith and Copy AI?
This is one of the common questions that prospects and customers ask us on sales calls and via support tickets.
If you're reading this piece, you probably want to know the same too.
Hence, we decided to write this in-depth post, where we share with you how our AI copywriting tool (Copysmith) compares with one of our biggest competitors (Copy AI).
Simply put, a Copy AI vs Copysmith guide.
In this post, you'll learn the following:
What is Copysmith
Why Copysmith exists
Who is Copysmith for?
Six things that Copysmith does that Copy AI doesn't
What is Copy AI
Copy AI core features
And so on
Want a quick snapshot of how Copysmith compares with Copy AI? We've got you covered as well.
You can check out the Copysmith vs Copy AI comparison table below for a concise summary.
With that said, let's proceed with the post.
Want to generate high-quality content for your marketing team at scale within minutes, instead of days? Click here to sign up for a 7-day free trial of Copysmith and start writing for free. No credit card is required for the free trial.
Copy AI Vs Copysmith: How Do They Compare? [Side-by-Side Comparison Table]
| | | | |
| --- | --- | --- | --- |
| S/No | Feature | Copysmith | Copy AI |
| 1 | Target audience | Perfect for large marketing teams (Ecommerce companies, marketing agencies, and in-house enterprise marketing teams). | Perfect for small marketing teams (Freelancers, copywriters, entrepreneurs, solo founders). |
| 2 | Workflow management | Ability to collaborate seamlessly with team members in large marketing teams. | Ideal for solo founders or teams of one that don't need collaboration features. |
| 3 | Integration | It integrates with third-party tools like Frase, Zapier, Shopify, Woocommerce, Google Ads, etc. | It doesn't integrate with any third-party tool. |
| 4 | Long-form content creation ability | Uses the free-form smart editor to create long-form content within minutes. | It has the bullet point to blog section feature, which isn't sufficient to create long-form content. |
| 5 | Plagiarism checker | It has an in-built plagiarism checker. | It doesn't include a plagiarism checker. |
| 6 | Pricing | Starts at $19 per month, with a 7-day free trial for all paid plans. | The Pro plan costs $49 per month. It also has a forever-free plan. |
| 7 | Editorial content | Doesn't currently support editorial content. | Perfect for creating editorial content and marketing copy. |
| 8 | Export features | Easily export generated content to PDF, CSV, DOCX, and so on. | Doesn't have export features. You can only save or copy generated content on the platform. |
| 9 | Google Ads integration | Allows you to launch Ad campaigns on Google directly from the software. | Doesn't have Google Ads campaign launching feature. |
| 10 | Shopify and Woocommerce integration | Launch product descriptions directly to your Shopify and Woocommerce storefront from your workspace. | Copy and paste generated product descriptions before using them on your ecommerce storefront. |
| 11 | Bulk generation | Create thousands of social media captions, product descriptions, Ad headlines, and so on automatically by importing a spreadsheet. | Manually copy and paste products one after the other before generating social media captions, product descriptions, and Ad headlines. |
Copy AI Vs Copysmith Comparison Table
What is Copysmith: A Quick Overview
Copysmith is an AI-powered content creation software that augments and enhances human creativity. While most people think that AI content creation software is here to replace humans, we don't think so.
We didn't build Copysmith to replace human copywriters and writers. Instead, it's a platform that helps human creators to do more, create more, and become more productive.
The use of an AI writing assistant like Copysmith for content creators can be likened to a carpenter who went from using a hammer to using a nail gun.
While a carpenter can still use a hammer to nail things, a nail gun saves him more time and helps him become more efficient.
The same thing with marketing content.
Truth is, there's a limit to what human writers and copywriters can create within a period. For example, recent statistics by Orbit Media show that it takes over 4 hours to write a typical blog post.
So, instead of spending more time to achieve less as a creator, Copysmith comes in as an efficiency tool that helps you generate more content at scale that's really dialed in.
Now that you know what Copysmith (actually is), let's proceed to why the tool exists.
Why Copysmith Exists: Meet The AI Content Creation Software For Large Marketing Teams
In case you're wondering why Copysmith exists, here are some pain points that our AI copywriting tool solves for writers, copywriters, and marketing teams.
Overcome writers' block
Imagine that you have a deadline to meet and suddenly get hit by writers' block.
What will you do to remedy the situation?
One, force yourself to continue writing even when you find it difficult to string words together.
Two, stop writing even though you're at risk of missing the deadline and disappointing your team and clients.
I'm sure none of these options will help you overcome writers' block in any way.
Copysmith offers you a plan B to writers' block. With this AI copywriting software, you can overcome writers' block quickly and easily.
Instead of staring at a blank screen, you can choose from our growing collection of templates, and our AI-powered software will start creating content for you in seconds.
Generate high-quality content instantly and at scale
Marketers wear many hats in most companies. Since you have a lot on your plate, you find it hard to focus on your job description's most creative and productive part.
For example, your boss at work might ask you to urgently create multiple variations of a Google Ads creative for A/B testing purposes.
Here is an example shared by Eden Bidani on LinkedIn.
As she mentioned, these are monotonous and repetitive tasks that can be tiring for any copywriter or marketer.
This is where AI copywriting software like Copysmith comes in. With it, you can generate high-quality content instantly at scale. Hence, giving you more time to focus on other essential aspects that move the needle for your business.
Save marketing teams from experiencing burnout
If you're a marketer in a company, you'd most likely be experiencing burnout right now. In most cases, you have a lot to deal with daily.
Aside from writing, you might be responsible for other duties such as:
Content ideation
Content research
Content planning
Content distribution
Content audit
And so on.
This is a lot to chew for most marketers. And it'll be difficult for you to perform optimally across these various tasks. Instead of stressing yourself out from doing all these alone, Copysmith can help you out and save you from experiencing burnout.
For example, instead of spending hours to come up with ideas for your next blog post, you can use the blog ideas template in Copysmith to come up with tons of blog ideas that your company can use for the next few months.
Collaborate with your marketing team seamlessly
Collaboration is an important aspect of marketing. Without it, you can't provide feedback to your team members and show them areas they can improve to perform better at their jobs.
Copysmith's team collaboration feature makes it seamless for you to work with other members of your team to create and launch marketing campaigns.
Say you're revamping the copy on your website's homepage. As the Marketing Manager, you'd have to provide feedback and recommendations on what the copywriter has gathered.
Doing this will be hard if your team isn't collaborating. However, with an AI-powered tool such as Copysmith, you find it much easier to collaborate with everyone on your team.
As you can see, Copysmith solves many pain points for marketers and marketing teams. Now, you may want to know if Copysmith will work for your company. The answer to that is in the next section.
Who is Copysmith For? Who Should Use This AI Writing Tool?
Copysmith isn't ideal for everyone and teams. You'll get the most value from using Copysmith if your company or business belongs to any of these categories.
E-commerce companies
If you own or run an ecommerce business, you'd find a lot of value from using Copysmith. For most ecommerce companies, creating multiple product descriptions at scale for your storefront is time-consuming and difficult.
With an AI writing software like Copysmith, you can create hundreds of descriptions for your products within a few minutes instead of days.
Not only that, our tool integrates with Shopify, which makes it easy to update the product description on your Shopify store directly from your Copysmith's workspace after creating them.
In-house Enterprise and Large Marketing Teams (From 100 to 500 Employees)
Large and enterprise in-house marketing teams will benefit immensely from using Copysmith. This is because the software has a team and collaboration feature unmatched in the AI writing industry.
With Copysmith, you can share projects, folders, and files across your team. Aside from that, your team members can review, edit, and approve company-wide copies from each individual's dashboard.
Marketing Agencies
Marketing agencies create high-quality content at scale for multiple clients.
With Copysmith, marketing agencies can create different projects for each client that they work with.
Let's say you work with ten clients at your agency. You can create a separate project for each of them.
Also, you can customize each client's project settings so that the AI-powered writing software can create content tailored to them only whenever you're working on their project.
Overall, Copysmith works best for ecommerce companies, in-house large and enterprise marketing teams, and marketing agencies.
That said, others like freelancers, copywriters, small business owners, and startup founders will find the tool helpful as well.
Now, you may be wondering. How exactly is Copysmith different from Copy AI?
Continue reading to discover six things Copysmith does that Copy AI doesn't.
Copy AI Vs Copysmith: Features That Make Copysmith Stand Out
Here are some stand-out features of Copysmith that you won't find on Copy AI.
1. Supports Large Marketing Teams
The biggest differentiator between Copysmith and Copy AI is that our tool supports large marketing teams. In contrast, Copy AI serves individual marketers, SMEs, small business owners, founders, and entrepreneurs.
For instance, if you are a large ecommerce company that generates tons of product descriptions, you can use the bulk generation feature on Copysmith.
This allows you to take a full spreadsheet of all your products and directly import those into Copysmith to recreate. With this, you can create 1000s of product descriptions with a few clicks and in a few minutes.
You can use the bulk generation feature across different templates such as Facebook Ads, Google Ads, social media captions, blog outline, Ad headlines, and so on.
Since large marketing teams collaborate across the board, Copysmith makes this easy. For each copy you generate using the AI-powered writing tool, you can share the link with someone else on your team.
They can easily click on that link to see what you're working on in real-time, even if they don't have a Copysmith account.
Also, you can download and export any copy you generate in CSV, PDF, DOCX, and TXT formats.
If you're a large marketing agency, eCommerce company, social media advertising agency, or enterprise marketing team, Copysmith will fit in perfectly with your team's workflow and help you get more done in less time.
2. In-app Collaboration and Workflow Management
Since Copysmith serves large marketing teams, we have a robust collaboration and workflow management feature.
With this, you can create an actual generation in your dashboard and assign it to another person in your team. This streamlines the feedback-gathering process. Hence, making it easier to launch new marketing campaigns on time.
Let's say you are the content strategist at a large in-house marketing team who wants to create Instagram captions for your company. First, you need to get the approval or feedback of your company's Director of Marketing before launching it.
Instead of copying the generated captions on Copysmith and sending them via email or Slack for feedback and approval, you can assign them to your Director, and they can send them right back to you with any edits or revisions they have. Of course, you can do all these directly inside your Copysmith's account.
Here is what it looks like for each of the templates in Copysmith.
3. Customization Features
When you sign up on Copysmith, you can fill in some details to ensure that our AI delivers customized generation tailored to your needs.
For example, you can mention that you're an agency that supports multiple brands, or you're someone who works in-house, or a freelancer who creates content for one brand only.
Aside from this, you can import your company details. Here, you can include your company's name and brand attributes (quirky, friendly, professional, funny, etc.).
Once you include all these, Copysmith will take all that data and input it into any new generation you create on the software.
Right now, Copysmith has over 50 templates that you can choose from across all plans.
If you're an Enterprise customer, you can request custom templates for your company. This helps you train our AI on specific features and mimic your brand's writing style or tone.
4. Integration with third-party tools
Our goal at Copysmith is to build an AI content writing tool that creates seamless workflows across everything that marketers do.
One of the ways we plan to achieve this is to integrate with third-party apps that will save marketers a lot of time and improve their productivity.
Right now, we've integrated with tools such as Google Ads, Zapier, Shopify, Frase, Woocommerce, Google Docs, and Chrome extension. And we have even more plans for future integrations to save marketers time and effort.
Take the Google Ads integration as an example.
With this, you can generate as many ad captions or descriptions as you want on Copysmith and directly plug that into your Google Ads account.
As a Google Ads specialist, this saves you time that you'd spend to copy and paste your generations from Copysmith into your Google Ads account. Once you connect your Google Ads account with Copysmith from your dashboard, you'll be able to do this seamlessly.
Another example of Copysmith's integration with third parties is the Frase integration. For this, you don't need an account on Frase. Instead, everything is done directly within your Copysmith's account.
This feature helps you to get valuable SEO data such as keyword volume and SEO optimization recommendations in CopySmith without a need for separate accounts.
5. Free-form smart editor (Long-form Blog Content Creator)
The free-form smart editor template on Copysmith helps you to create long-form blog content quickly and easily.
This helps you save time in content research and writing, so you can spend more time making sure that your target audience finds your content.
The way it works is simple. Just input a few lines you'd like to generate long-form content for, highlight it, and Copysmith will do the rest for you.
Here is an example.
Here's one of the outputs from the example above.
6. Plagiarism Checker
Copysmith has an in-built plagiarism checker that checks generated copy and notifies you about its plagiarism status.
So, if a copy contains some plagiarised sentences or paragraphs, you can tweak and make necessary corrections before launching it.
To check the plagiarism status of any content on Copysmith, all you need to do is highlight the text and click the plagiarism icon on your dashboard.
Here is what that looks like:
If you highlight the copy, and it doesn't pass the plagiarism check, it'll notify you as in the example below.
If it passes the plagiarism check, it'll display a pop-up, as shown below.
Copysmith Pricing: How Much Does Copysmith Cost?
Copysmith has two pricing plans. The Starter plan costs $19 per month. This gives you 50 credits, 20 plagiarism checks, and access to all integrations.
The Professional plan costs $59. This gives you access to everything in the basic plan and extends your credit limit to 400, plus 100 plagiarism checks.
And we have the Enterprise plan, which gives you unlimited access to exclusive features like content import and export, in-app collaboration, bulk content generation, and so on.
You'll need to book a demo with our team to learn more about this and how it works.
What is Copy AI: A Concise Overview
Copy AI is an AI content generator founded by Chris Lu and Paul Yacoubian in October 2020.
This AI tool helps copywriters, small business owners, startup founders, freelancers, and entrepreneurs create marketing copy in seconds.
It has over 90 templates that you can use on its platform to create high-converting and quality marketing copy. Some of these include:
Blog ideas
Bullet point to blog section
Instagram captions
Product descriptions
Testimonial rewriter
Catchy email subject line
Name generator
Listicle
And so on.
Copy AI Core Features
Here are some core features of Copy AI that you might want to check out.
Freelancers and/or small marketing teams
Copy AI was built for small marketing teams and solo entrepreneurs, while Copysmith serves large marketing teams. If you are a solo freelancer (writer or copywriter), you won't find Copysmith as a better alternative to Copy AI.
With Copy AI, you have access to tools that will help you fulfill your immediate needs as a small team. Take, for instance, if you're a solo founder, you'll find startup tools on Copy AI like Audience Refiner, Brand Voice, and Motto Generator useful.
Creating editorial content and marketing copy
If you want to create editorial content, you'll find Copy AI as the better solution for you. However, for Copysmith, anyone who wants to use AI to write books or narrative content isn't our target audience. For Copy AI, that's not the case.
For example, suppose you're a writer. In that case, you'll find writing tools like hero story intro, hero story villain, passive to active voice, cliffhanger, essay intro, essay outline, explain like I'm 5 on Copy AI valuable and helpful.
Also, if you're a copywriter, Copy AI's sales copy tool features such as feature to benefits, marketing Angles, Problem-Promise-Proof-Proposal, and quest copywriting will help you immensely.
Simple and Straightforward Pricing Model
Copy AI's pricing model is straightforward compared to Copysmith. Since Copysmith caters to large marketing teams, it has four different pricing tiers. On the other hand, Copy AI has one free plan and two paid plans. For Copysmith, you can try out any of its plans for free in the first seven days. While Copy AI allows you to use its free plan forever.
Copy AI Pricing: How Much Does Copy AI Cost?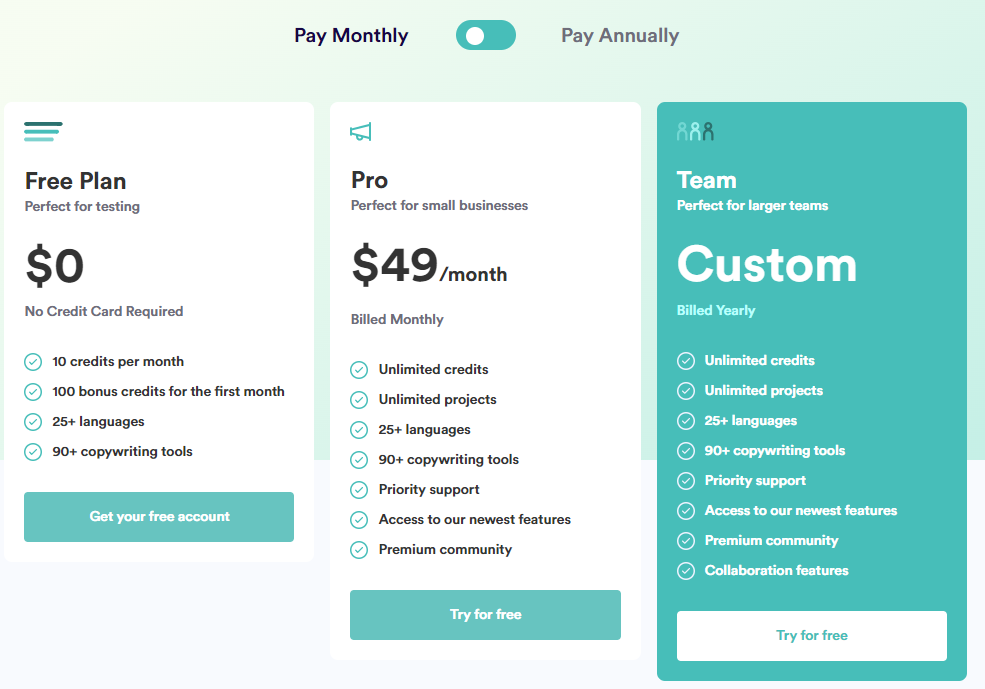 Copy AI operates on a freemium pricing model. This means that you can use the software for free forever. With this, you'll get access to 10 free credits every month. And if you're a new user, you'll receive 100 bonus credits for the first month.
Copy AI's Pro plan costs $49 per month. With this plan, you can access unlimited credits and create unlimited projects on the platform.
The Team plan operates on a custom pricing model. This plan allows you to collaborate with other team members in your company.
Final Words: Choosing The AI Copywriting Software to Use Between Copy AI Vs Copysmith
There are numerous AI copywriting tools out there. If you're looking for the best one to choose for your business, make sure it aligns with your needs.
The major difference between Copy AI and Copysmith is that Copy AI is great for creating editorial content, while Copysmith is the best AI copywriting software for ecommerce companies, marketing agencies, and large/enterprise in-house marketing teams.
If collaboration and workflow management are features you can't do without, then Copysmith is the copy ai alternative you've been looking for.
On the other hand, if creating editorial content is your thing, then you'll find Copy AI as the perfect fit for you.
Are you an enterprise marketing team looking for AI copywriting software to create and launch campaigns for your marketing team at scale? Click here to sign up for a 7-day free trial of Copysmith and start writing for free. No credit card is required for the free trial.