Copy AI and Jarvis are among the most popular AI copywriting tools. However, with more tools emerging in the industry and glowing reviews from content creators and YouTubers, it's becoming harder to know which assessment is factually objective.
A quick analysis of the top-ranking pages for these reviews on Google shows that they are mostly vague and offer insufficient assistance in helping you decide on which one to go for. In most cases, they highlight their features without tying them to benefits and discuss their purposes in the vaguest terms possible.
In this in-depth Copy AI vs. Jarvis (Jasper AI) post, we delve into why these two AI content creation tools exist, show you whom each of them serves the most, discuss their core features, and also highlight their cons.
Want to have a glance at how these two AI writing software compare? Below is a comparison table with an overview of everything you need to know.
And if you are an ecommerce storefront owner or manage an in-house marketing team or agency, our software, Copysmith, is the best AI copywriting software for large marketing teams.
Let's get started.
Copysmith is the Copy AI and Jarvis alternative for ecommerce companies. Want to see it in action? Click here to sign up for a free trial and start writing for free.
Copy AI Vs. Jarvis: How Do They Compare?
| | | |
| --- | --- | --- |
| Features | Copy AI | Jarvis (Jasper AI) |
| Long-form content | Not supported | Available in Boss Mode only |
| Integration with third-party apps | Not supported | Not supported |
| SEO integration | Not supported | Supports Surfer SEO |
| In-app collaboration | Not supported | Not supported |
| Plagiarism checker | Not available | Available as an add-on with Copyscape |
| Rich text control | Available | Not supported |
| Pricing model | Subscription-based pricing model | Credit-based pricing model |
| Free trial | Offers a forever free trial | Offers only 7-day free trial |
What is Copy AI?
Copy AI is an AI-powered copywriting tool that helps businesses create better content. It's primarily used for creating marketing copy such as Instagram captions, landing pages, product descriptions, ad copy, etc. It's one of the most popular alternatives to Copysmith out there.
Who is Copy AI For?
You'll get the most value from using Copy AI if you belong to any of these categories.
Freelance Writers
If you are a freelance writer working with multiple clients, you most likely have e a lot on your plate, and ideating too many times a day can easily lead to burnout.
Content ideation is one of Copy AI's significant strengths, and it also writes short marketing copies.
This software can help you write faster and better with very little input from you.
However, if you work with a team or constantly need to secure approval and feedback from your superior, you won't find the software helpful.
This is where other AI writing assistants like our platform come into play.
It has an in-app workflow management feature that lets you bring in all your team members, assign them roles and tasks, and collaborate on content in real-time.
Ad Agencies
Copy AI is a good fit for ad agencies that create short copies like social media captions, Facebook and Instagram ads, product descriptions, etc.
However, after creating the ad content on Copy AI, you must manually copy and paste them into your Ad account.
In contrast, our platform makes it easy for you to automatically upload your ad copies to a connected Google Ads account.
With our Google Ads integration, you don't have to copy and paste your ad copies from one app to another. Instead, you can export your ad copies to your Google ads account directly with the click of a button.
Small Business Owners
Small business owners who are not necessarily trained writers but understand that they cannot do away with marketing content also benefit from Copy AI.
They may not know how to create content, but Copy AI is easy to use for even the most basic beginner.
Copy AI Core Features
Below are some features where Copy AI has considerable strength compared to Jarvis.
Social media ads and content
Almost every AI content generator writes ads, but Copy AI gives you many options in this area.
Under its Digital Ad Copies alone, you have a lot of options to choose from, such as:
Facebook headlines
Facebook link descriptions
Facebook listicle
Facebook primary text
General ad copy
Google descriptions
Google headlines
LinkedIn ad copy
Blog Tools
Jarvis's long-form writing feature Boss Mode can be costly.
As a good alternative, Copy AI has its suite of blog writing solutions feature, and this can be very helpful for anyone who needs to write a blog post but is easily distracted or can't just flow properly.
This can help generate blog ideas, blog conclusion, blog intro, blog outline, blog title, Bullet Point to Blog section.
Of particular interest is the Bullet Point to Blog, which is very useful in writing listicles or blog posts that have many bullet points.
All you have to do is insert your title and the bullet point you want to write, and Copy AI uses the information to write some paragraphs about the bullet point.
Social Media Posts
Aside from generating suitable ads, Copy AI has a section dedicated to writing all sorts of social media posts.
Under its social media tool has different options for all forms of social media posts.
Some of them are:
Carousel post
Hashtag generator
Hook generator
Instagram captions
Instagram product showcase
Launch your product
Short text hook
Video call to action
Youtube description intro
Youtube title
With these, almost all aspects of your social media posts have been catered to.
eCommerce product descriptions
Copy AI also has a feature for eCommerce product descriptions. This helps eCommerce site owners to create product descriptions faster.
If you own an eCommerce storefront and create product descriptions from time to time, this can help you generate content faster.
The downside of this feature is that you have to manually copy and paste your generated product descriptions into your storefront.
With Copysmith, that's not the case.
Aside from writing single product descriptions, you can also generate them in bulk and launch them directly to your storefront. For example, with our eCommerce product description generator, you can import a CSV file of your various products. Then it generates descriptions for every single one of them in minutes.
If your storefront is on Shopify, our platform also lets you update product descriptions in real-time and upload your content directly to your storefront with the click of a button.
Rich text control
Another cool feature of Copy AI is the rich text control. If you are writing ads and Facebook posts majorly, this won't benefit you as much.
But Copy AI's Bullet Point to Blog feature is where this comes in handy since that's a prelude to writing a blog post where all sorts of rich text controls are helpful.
As soon as it generates your paragraph for you, you can apply any rich text control you want to before exporting your content to wherever you want to use it.
Cons of Copy AI
Below are a few downsides of this AI writing software, which might make you look into other alternatives to Copy AI.
No integration with third-party apps
Speed is one of the most prized perks of AI copywriting tools. However, you are losing out on time-saving without integrating third-party apps because you have to copy your content and paste it to somewhere else manually.
This is an area where Copy AI doesn't offer the user much. Right now, it doesn't integrate with other third-party apps that make your life easier and your work more productive as a marketer.
Unlike Copysmith, which integrates with marketing apps such as Google Ads, Zapier, Shopify, Google Docs, Frase, Woocommerce, and more.
Even if you are on Copy AI just to create ads, Copysmith still makes your job easier as it creates great ads and allows you to upload them to your Google ads account automatically.
This same benefit is available to eCommerce store owners on Shopify, as we have shown earlier.
Its integration with Frase also ensures that your generated content on the platform is well optimized to rank high on search engines.
No built-in plagiarism checker
Copy AI doesn't have an in-built plagiarism checker and doesn't integrate with one.
Working with AI writing tools generally requires checking the generated content for plagiarism.
This is another area where Copysmith performs better than Copy AI. It has a built-in 100% plagiarism checker that shows you if your content has any plagiarism issues or not.
When you are done writing your content, just click on the plagiarism checker button icon located at the right corner of your screen.
If your content passes the test, you'll see this:
And if it doesn't, the following message will pop up:
If you want to read an in-depth comparison of Copy AI and Copysmith, you can check out the Copy AI Vs. Copysmith guide we wrote recently.
Copy AI Pricing: How Much Does Copy AI Cost?
Copy AI operates on a freemium pricing model. The free plan gives you 100 free credits in the first month and ten credits per month afterward.
The Pro plan starts at $49 per month. With this, you'll have access to unlimited credits, create unlimited projects, 25+ languages, over 90 writing tools, and other features that are available on the platform.
The Team plan is for larger teams who want to collaborate with their team members on big projects, and the options here are endless. For this, you'll have to book a demo.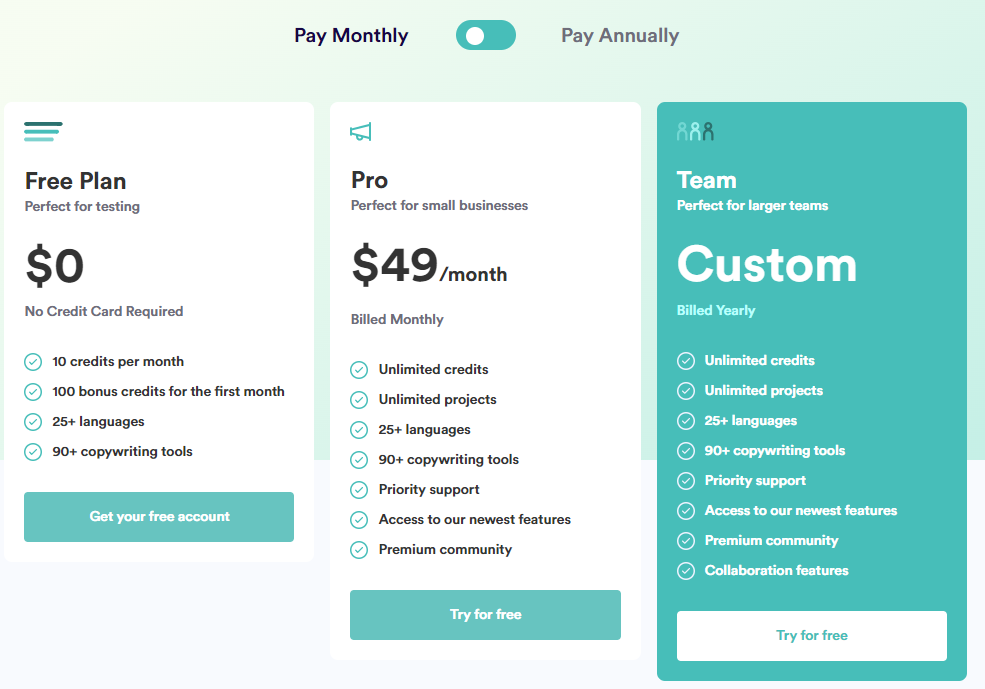 What is Jarvis (Jasper AI)?
Jarvis is an automated copywriting software for generating all sorts of content from blog posts, ads, emails, and other marketing-related content.
Who is Jarvis For?
Jarvis offers a broad range of options, but it can't serve everyone equally. It definitely won't suit others perfectly if it appeals to one party.
Jarvis would be a good fit for you if you belong to any of these categories:
Solo freelance writer
You might not need to collaborate much with others as a freelance writer. However, you are probably working alone at this stage and also need to move fast. In that case, Jarvis can assist you in generating quick ideas, writing blog post outlines, writing blog posts, and so on.
Entrepreneur
If you own a startup but can't hire a professional copywriter just yet, Jarvis is a good software to assist you in creating the content you need.
Agencies
Agency marketers always have so much to do, and Jarvis can help individual marketers reduce their workload and focus on other things.
Jarvis can help you do most of your content if you are a marketer in an agency while focusing on other equally important tasks.
Features of Jarvis
Below are some features of Jarvis, which make it stand out compared to Copy AI.
Jarvis Boss Mode
One feature that's attracted many users to Jarvis is its long-form content writing section known as Boss Mode.
While most reviews on YouTube and Google make it seem like Jarvis boss mode generates long-form content on autopilot, it's not quite the case.
Take, for instance, in this Twitter thread; you can see that Nathan Gotch (Founder of Gotch SEO) mentioned that you have to feed the Jarvis AI tool well to generate decent long-form content for you.
Marketing frameworks
If you are a copywriter, you'd understand Eugene Schwartz's famous quote that "Copy is not written. It is assembled."
The team at Jarvis understood this well and programmed some copy formulas into their software.
Here are three copywriting frameworks that Jarvis uses in writing marketing content.
PAS framework
The Pain-Agitate-Solve formula is a prevalent writing model in copywriting. The PAS model lets you connect with your audience from the outset.
You begin by analyzing their problem, then you demonstrate a thorough understanding of their situation by agitating the issue, and finally, gently lead them to the solution of the problem.
That's how you build trust and rapport with the audience.
Jarvis has this model in place so you could use it as a recipe to make your copy better.
BAB framework
Before-After-Bridge is a copywriting formula that depicts your audience's terrible situation at the moment. Then, it shows the world what it would look like if that problem didn't exist. Finally, it positions your product as the bridge between the before and the after.
This is another recipe in Jarvis AI to make your copy better.
AIDA Framework
AIDA stands for Attention, Interest, Desire, and Action. Arguably the most popular framework in marketing, no marketing activity or marketing can survive without considering this framework.
It's also an essential foundation for those creating content to get their audience to take action at the end of it.
This framework is one of Jarvis's recipes aimed at helping you create content that best suits your interest and goal.
Surfer SEO Integration
Jarvis integrates with Surfer SEO and this helps you optimize your content for search engines as you create them.
Real-estate listing-residential
In writing, specification is very important. If you work in the real estate industry, whether as a writer or a marketer, you could benefit a lot from Jarvis as they have a feature specifically tailored to this purpose.
Cons of Jarvis
Below are the downsides of Jasper AI, which might make you consider some Jarvis alternatives for your marketing needs.
Requires deep learning
If you hope to hit the ground running from day one, Jarvis might not be the right fit for your needs.
This is because Jarvis is hard to understand. And even if you could make use of a few things from the beginning, you won't be able to do much until you invest some time going through the product tour videos made by the Jarvis team.
If you want to create content fast using AI, this is an area that's worth considering before choosing Jarvis.
No integration with third-party apps
Not integrating with related marketing tools is a huge downside for a tool meant to serve marketers.
Marketers mostly move from one platform to another, and apps that integrate well with other apps make them happy.
Our platform is an excellent example of this. We understand the importance of speed and comfort in executing marketing, so we have designed Copysmith to integrate with third-party apps such as Google ads, Shopify, Zapier, Frase, Google Docs, and many more in the pipeline.
Using Copysmith to write ads, you don't have to toggle between different apps. Instead, with the click of one button, you can upload your content directly to your Google Ads account.
The same scenario applies to eCommerce storefront owners on Shopify. Aside from creating bulk product descriptions at once, Shopify storefront owners can also upload and update content on their storefronts with the click of a button.
Frase SEO integration with Copysmith means you won't have to start copying your ads to other tools for search engine optimization. This feature is available for all Copysmith users, even if you don't have an account with Frase.
Credit-based Pricing
Credit-based pricing, as opposed to the SaaS pricing model, is an eyesore for many Jarvis users. With this pricing model, once you exhaust your credit limit, you cannot do anything on the platform until your monthly payment renews or you upgrade your credit limit plan.
This becomes prominent as soon as you realize that not all Jarvis's generated content is usable. Sometimes, you have to rewrite the piece many times before it gets to something you need.
For each of these rewrites, you're charged a credit, depending on your use case.
This means that you end up paying for content that you didn't use in most cases.
Want to read an in-depth comparison of Copysmith and Jarvis. You can read the Jarvis Vs. Copysmith post we wrote recently.
Jarvis Pricing: How Much Does Jarvis (Jasper AI) Cost?
Jarvis pricing starts at $49 per month. With this plan, you can write up to 35,000 words of short-form content each month, and access over 50 templates, 25+ languages, and the Jarvis community.
The Boss Mode plan starts at $59 per month. With it, you can write up to 100,000 words, access to SEO modes, Jarvis Command, Plagiarism checker, and other premium features.
While this pricing seems straightforward on the surface, the truth is that the model badly limits you.
With the $29 plan, you can't write more than 35,000 words on the software. To create 50,000 words per month, you'll have to pay more.
The same thing applies to the Boss Mode, which limits you to 100,000 words only each month.
Jarvis Vs. Copy AI: Which One is Best For You?
Choosing between these two depends on what they can or cannot do.
The major difference between Copy AI and Jarvis (Jasper AI) is that Copy AI does well with generating social media content and other short-form copies, while Jarvis performs well with long-form content.
The downside of Copy AI is that it doesn't have SEO features and can't integrate with any third-party software
Jarvis, on the other hand, doesn't integrate with third-party apps, charges based on a credit-based pricing model, and is difficult to use.
Our AI copywriting platform, Copysmith, bridges the gap between these two.
Aside from generating great long-form and short-form content, ads copies, social media content, and more, it has innovative features such as in-app collaboration, workflow management, tone customization, integration with other marketing apps, and a lot more.
Copy AI and Jarvis focus on small marketing teams. Copysmith, on the other hand, best serves ecommerce companies and large marketing teams.
You can sign up for a free trial today and see Copysmith at work. No credit card is required.