Peppertype is an AI writing assistant built for freelancers and agencies alike. But its users often run into roadblocks when creating long-form content, as Peppertype doesn't support this feature.
It has 20+ templates, thereby leaving you with limited use cases. These factors and the high price make many users want to switch to better Peppertype alternatives.
If you are looking for the best Peppertype alternatives right now, you are in the right place.
Based on our experience and expertise in the AI writing industry, we have selected the six best alternatives to Peppertype in this post and analyzed their pros and cons.
After reading this article, you'll feel more confident choosing the best Peppertype alternative for your marketing needs.
Let's get into it.
Copysmith is our platform, and we built it for eCommerce teams and agencies who need to create great content at scale. Sign up for a 7-day free trial today and see how it works. No credit card required.
The Six Best Peppertype Alternatives Reviewed
Let's review the six best alternatives and competitors to Peppertype and see how each of them compares to the AI writing software.
1. Copysmith: the Peppertype alternative for large marketing teams
Copysmith is an AI copywriting tool for generating marketing and sales-related content.
This includes social media posts, social media ads, product descriptions, Google ads, etc.
It helps eCommerce marketers optimize product descriptions, rank higher on Google, and convert more sales at warp speed.
If you work in a large marketing team, especially, you stand to benefit from Copysmith
Our platform has many features specifically built for large teams, as we'll soon discuss.
Why is Copysmith The Best Peppertype Alternative?
If you want to select an automated copywriting software, it's essential to consider its templates, the content, and other features.
Copysmith has some of the most innovative features in the market. Let's look at some of those features and why they are perfect for your work.
Product description writing templates
Aside from being excellent in other areas – such as social media posts, Google Ads, blog posts, etc. – Copysmith also has the highest number of product description writing templates than we've seen in any AI copywriting software.
Some of them are:
Amazon product description
eBay product description
Etsy product description
Flipkart product description
Sales email generator
Instagram product description
Product reviews reply
These were all built for a simple reason: every eCommerce platform has its own content uniqueness, e.g., word count, style, etc.
So, instead of writing a product description and editing it to suit the style of each platform, you can use our pre-designed product description writing software to create amazing product descriptions quickly and easily.
Bulk content generation
Copysmith supports bulk content generation. This allows users to generate multiple content for different purposes at any given time.
Say you have many product descriptions to generate; you can write all of them simultaneously, rather than doing so one after another.
Many templates can be used under this function. This includes Ad headlines, Ad ideas, article summaries, Facebook ads, and product descriptions.
Here's an example with a bulk product description to see this at work.
In this case, you'd be asked to upload a CSV file containing the list of your products, company name, brand keyword, product name, and more.
See more in the screenshot below:
Once you've uploaded it, our platform generates product descriptions for the products on the list.
Imagine how much energy and time this saves. In a typical AI writing platform, the best you can get is to generate your product description one after another. However, this can be done in minutes on our platform.
Integrations
Copysmith integrates with several tools, which help users get more efficient.
Here are some of them:
Hootsuite
Our integration with Hootsuite lets users access Copysmith from Hootsuite and post to or schedule their posts on their social media pages instead of copying and pasting manually.
Google Docs
Another essential integration is with Google Docs. This lets you use Copysmith while working in your Google Docs.
For example, you may be suffering from writer's block at some point and need something to give you the idea to start.
This may range from writing a blog post introduction to writing an outline or just about anything.
Instead of leaving Google Docs to access Copysmith, you can continue working in Google Docs and still have access to Copysmith.
Google Ads
If you run Google ads for multiple clients, you can integrate our platform with your Google Ads account.
By linking them together, you have the opportunity to upload your generated ads directly from your workspace to your Google Ads account.
Uploading content to Google Ads in other tools would require you to copy and paste, but Copysmith takes that hassle away.
With Copysmith, you save time and get more done in less time.
Export options
Another interesting feature of Copysmith is its content export feature.
This feature has four download options: TXT, PDF, Docx, and CSV.
Each one of these options serves a different purpose.
The CSV option is perfect for writing multiple product descriptions, ads, or short-form copy.
If you want to edit your content some more and print it out, you can download it in a Docx format.
This helps you minimize errors that often accompany copying and pasting and makes the entire content export process a seamless experience.
Workflow and in-app collaboration
Copysmith helps large teams do their best work and stay productive.
Our platform permits you to bring in your team members to work with you, which helps in many ways.
To begin with, the workflow lets you keep tabs on your ongoing tasks and follow the progress of each task.
See an example below:
This shows you which task was assigned to whom, the work status (whether kickstarted, completed, or under review), and when they worked on the last task.
To bring team members onboard, invite them through their email addresses:
As soon as they are in, you can assign them roles like this:
That's it. You and your team members can work together on our platform.
Copysmith Pricing
Copysmith has three pricing plans: Starter, Professional, and Enterprise.
The Starter plan costs $19 each month. It comes with 50 credits, 20 plagiarism checks, in-app support, and integrations.
The Professional plan is $59 per month. It comes with everything in the Starter plan but increases your credits to 400 and your plagiarism checks to 100.
The Enterprise plan has more exclusive options like content import and export, in-app collaboration, bulk content generation, etc. Plus, here, you have unlimited credits.
Kindly book a demo with our team to learn more about this plan.
2. Anyword
Anyword is an AI copywriting software for creating marketing content. It writes both short-form and long-form content.
To see how Anyword fits your marketing goal, let's see some of its core features.
Ads templates
Anyword is suitable for creating ad copy. This includes templates for:
Twitter Ad
LinkedIn Ad copy
Headlines
You can either generate your ad copy from scratch or improve an existing one. Anyword permits either.
Advertising modes
Another prominent feature in Anyword is the advertising modes.
This is where you can choose the tone of voice, copywriting framework, and other aspects of your ad.
Some of the options you'd have here are the copywriting frameworks PAS (Problem, Agitation, Solution) and AIDA (Attention, Interest, Desire, Action). Also, you can choose your tone of voice like 5th Grader, Hard Sell, and Conversational.
Predictive performance score
Another core feature of Anyword is the predictive performance score. This feature evaluates your content's potential to engage your audience, makes you understand how different demographics will react to your content and suggests improvements.
Cons of Anyword
Despite all the good features mentioned above, Anyword does have some drawbacks.
Let's assess a few of these cons, which might make you opt for other Anyword alternatives.
It's pricey
Anyword basic plan starts at $79 per month, and it's billed annually. This is far above most of its competitors' entry price.
Furthermore, this only lets you create 30,000 words per month.
Not easy to use
Another disadvantage of using Anyword is that it's hard to navigate. To master Anyword, you'd have to spend time training the AI.
Anyword Pricing
Anyword basic plan is $79 per month. It gives you 30,000 words, a blog post builder, scores and analytics, and only one seat.
The second pricing plan is $239 per month. This gives you everything in the basic plan, unlimited words, continuous optimization of your landing page copy, a dedicated account manager, and five user seats.
Lastly, Anyword has an Enterprise plan at $999 per month. It gives you everything in the previous plans, plus custom models, custom number of seats, API access, and brand guideline filter.
3. Copy AI
Copy AI is an AI writing assistant for creating short-form marketing content. This includes social media posts, product descriptions, and captions.
To better understand how well Copy AI can serve you, let's take a look at its core features.
Social media templates
Copy AI's strength is in creating social media content. This shows in the number of templates under its social media section.
This includes:

Instagram caption
Instagram product showcase
Short text hook
TikTok brainstorm topics
Hashtag generator
Carousel post
YouTube Video Title
This is not an exhaustive list, as there are up to 16 of these templates on Copy AI.
In-app collaboration
Copy AI has in-app collaboration where you and your team can collaborate in-app. This makes collaboration a seamless experience.
Rich text control
Copy AI allows for rich text control on its platform. This means you can edit your content and give your text any style you want in your workspace.
Rich text is helpful for many things. For example, it lets you highlight a part of your content for emphasis, format text to make it bolder, among many other things.
Cons of Copy AI
Using Copy AI has its disadvantages, too. Below are some of those.
No SEO feature
Copy AI doesn't have any SEO features. So, optimizing your content for better ranking, which other tools like Copysmith make possible, isn't available to Copy AI users.
Using Copy AI, you may need completely different tools to optimize your content for better ranking on the search engines. Alternatively, you can opt for other Copy AI alternatives that support this feature.
Doesn't support long-form content
Another disadvantage of using Copy AI is that it doesn't create long-form content. This limits what kind of content you can create with it.
If you want to know more about the differences between our platform and Copy AI, here's an in-depth Copysmith Vs. Copy AI post that delves into that.
Copy AI Pricing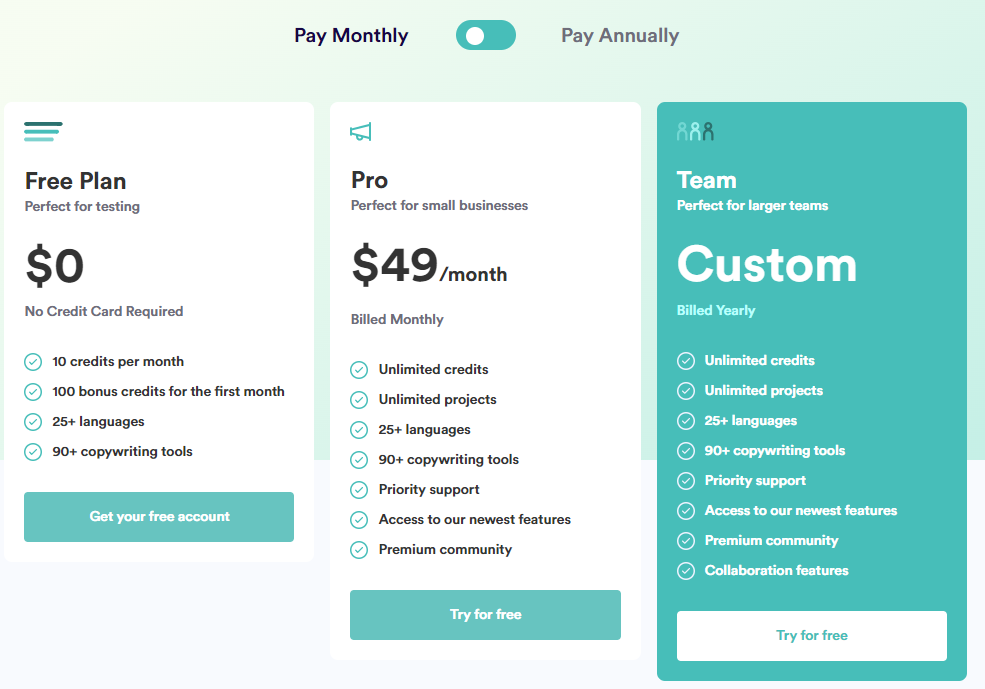 Copy AI has a forever-free plan. It gives you 100 credits in the first month and ten credits every subsequent month. With this, you'll also have access to all its templates.
The second pricing plan starts at $49 per month. With this, you will access all its templates, priority support, and unlimited credits.
The last plan is the Enterprise plan. With this, you will have access to everything in the previous plans, plus collaboration features.
4. Writesonic
Writesonic is an AI writing assistant for generating both long-form and short-form content. This includes blog posts, reports, social media posts, product descriptions, etc.
To see how well Writesonic can serve you, we assess its major features below.
Marketing copy templates
Writesonic's main strength is in creating marketing copy. This reflects in its available templates, which include:
AI article writer
Article summaries
Landing pages
Feature to benefit
Headers
And so many others.
Long-form content
Writesonic has a long-form content creation feature. While this isn't something offered by every automated copywriting software out there, it's one of the pros of this AI writing tool.
Exists as a plugin
The software also exists as a plugin. So, you can add it to your WordPress website and access it from there.
Cons of Writesonic
Writesonic has its cons, too. Let's look at some of these which might make you choose other alternatives to Writesonic.
Editing content costs more credit
One of the drawbacks of Writesonic is that to edit your content, you'd burn more of your credits.
While AI copywriting tools are imperfect, there should always be room for improving your content at no additional cost to you.
However, this is not the case on Writesonic.
Doesn't have a plagiarism checker
Writesonic doesn't have a plagiarism checker and doesn't integrate with one. As such, you'd be left to find a separate tool to check your content for plagiarism.
Doesn't support bulk content generation
If you want to create a lot of content at once like you could in Copysmith, Writesonic doesn't support this.
If you have a large quantity of content to create with Writesonic, you'd have to take them one after another.
Writesonic Pricing
Writesonic basic price is $15 per month. It comes with 100 credits, a long-form writing assistant, integration with SEMRush, and one user seat.
The Professional plan costs $45 per month. This has everything in the basic plan, plus unlimited words. The Startup plan costs $95 per month. It gives you everything in the previous plans and two user seats. The Agency plan costs $195 per month. It offers everything in the previous plans, four user seats and unlimited credits.
5. Jasper AI
Jasper AI (Formerly Jarvis) is a website content writing software for writing short-form and long-form content for different use cases. Let's examine some of its core features.
Long-form writing assistant
One feature that's endeared Jasper to most users is its long-form writing assistant. This feature helps users create long-form content like reports, blog posts, emails, etc.
Jasper recipe
Jasper recipe is a feature in Jasper that lets you give the software instructions. One of these recipes is the popular Boss Mode, which helps users create different types of blog posts.
Plagiarism checker
Jasper integrates with Copyscape to provide users with a plagiarism checker. This saves you from plagiarised content or using a completely different tool to check your content for plagiarism.
Cons of Jasper
While Jasper creates short-form and long-form content, which many users love, It has some shortcomings. Below, we will discuss some of them.
Not easy to use
The first downside of Jasper is that the tool isn't easy to use. You have to watch some tutorials a few times to get a hang of it.
This can slow you down because the expiration date begins to count as soon as you make your subscription.
Doesn't support content export
Another downside of using Jasper is that it doesn't support content export. You'd have to copy and paste your content manually to use your content elsewhere.
This increases your chances of making mistakes while copying your content and takes more of your time.
If exporting content is one of the features you're looking for in an AI copywriting tool, you might consider some of these Jasper AI alternatives that support it.
Content requires a lot of fact-checking
Although Jasper generates long-form content, this often requires a lot of fact-checking as it sometimes gives inaccurate information.
To know more about how our platform compares to Jasper, you can read our in-depth post on Jasper vs. Copysmith.
Jasper AI Pricing

Jasper has two pricing plans: Starter and Boss Mode.
The starter plan starts at $29 per month. On this plan, you can only create short-form content. You'll also have access to 20,000 words and all the available templates.
Boss Mode, is for creating long-form content such as blog posts, emails, reports, etc. It costs $59, and with it, you have access to 100,000 words per month and all available templates.
6. ClosersCopy
ClosersCopy is an AI copywriting tool for generating marketing copy and long-form content.
Below we discuss the main features of ClosersCopy and its pros.
Ads templates
One of the strongest use cases for ClosersCopy is its ad templates found under its template library.
This includes
Facebook Ads
Google Ads
Sales pages
Landing pages
Twitter Ads
And so on.
Segmentation of AI models
ClosersCopy segments its AI writing models into three different categories. This enables users to find anything they are looking for on the platform easily.
They have a section dubbed BlogAI for generating blog posts.
They also have SalesAI for creating ads, sales pages, email campaigns, and more.
The last one is known as StoryAI, and it's for writing good stories.
Content analytics
The content analytics in ClosersCopy helps you check your content for writing weaknesses. This ranges from passive sentences to keyword density to long-winded expressions.
Cons of ClosersCopy
As we have discussed the prominent features of ClosersCopy, let's also assess some of its weaknesses.
Doesn't support bulk content creation
ClosersCopy doesn't support bulk content generation. This weakness may hinder large marketing teams who want to create content in bulk from enjoying the tool.
Doesn't support content export
ClosersCopy doesn't have any export feature. So to use your content, you'll have to copy and paste it. This consumes more of the time you could have invested in other productive tasks. If exporting content is an important feature to you, then you might consider other alternatives to Closerscopy.
ClosersCopy Pricing
The starter price on ClosersCopy costs $29.99 per month. This gives you 45,000 words and access to every feature on the tool.
The professional plan gives you everything in the Starter plan but increases your word limit to 120,000. It costs $49.99 per month.
The last plan is the unlimited plan, which gives you unlimited words, three user seats, and access to every feature on the platform. This costs $79.99 each month.
Which Peppertype Alternative Should You Choose for Your Marketing Needs?
In this post, we have reviewed the best Peppertype alternatives, which are:
Copysmith
Anyword
Copy AI
Writesonic
Jasper AI
ClosersCopy
Knowing which one to choose should not be too hard once you understand that the essence of using an automated copywriting tool software is to boost efficiency.
A good one, for a start, should have enough templates that are relevant to your marketing needs.
It should also take things a notch higher by enabling further automation in other content-related tasks, such as
Exporting your content
Generating content in bulk
Collaborating with your team
Integrations
Export options
With Copysmith, you'll get all these benefits. The only way to prove its value is to try it yourself. It doesn't only help you create excellent content but also makes the whole process a thrilling experience.
If you need to get your content ranking higher at warp speed, sign up for a 7-day free trial on Copysmith now and watch the magic in action. No credit card required.