As the number of AI copywriting tools in the market grows, choosing the right one is also becoming harder – thanks to the many reviews that are not objective.
We know about this because we've read many about our platform, Copysmith, and others.
Since we have experience and expertise in this niche, we decided to write an in-depth post comparing Copy AI and Anywordso that you can choose the one that's best for your marketing needs based on quality information.
In this article, you'll learn what these tools are for, whom they serve, and what features differentiate them from one another.
Do you manage an eCommerce store and create content at scale? Sign up for a 7-day free trial of Copysmith now and start writing for free. No credit card required.
Anyword Vs Copy AI: Comparison Table
Here is a comparison table that shows you a quick overview of how these two tools compare.
| | | |
| --- | --- | --- |
| Feature | Anyword | Copy AI |
| Area of strength | Landing page content | Social media content |
| Workflow and in-app collaboration | Doesn't support in-app collaboration | Has in-app collaboration in its custom plan |
| Integration with third-party apps | Connects to landing pages | Doesn't integrate with any third-party app |
| Plagiarism checker | Doesn't have a plagiarism checker | Doesn't have a plagiarism checker |
| Bulk generation of content | Doesn't support bulk-generation of content | Doesn't support bulk-generation of content |
| Pricing | Starts at $79 per month | Starts at $49 per month |
What is Anyword?
Anyword is an AI writing assistant for generating effective marketing content. It's great for "crafting and optimizing" content that drives more sales and increases conversion.
Who is Anyword for?
Let's take a look at Anyword's primary target users.
Agencies
Anyword helps agencies who might want to perform A/B testing to do so easily.
Startup founders
Suppose you are a startup founder and can't afford a professional copywriter yet. In that case, Anyword can help you create some of your content, such as landing page copy, social media content, and blog outlines.
Sales teams
Another set of users who would benefit from Anyword is sales teams. Using Anyword, you can automate feature announcements, new arrivals, and other sales-related writings.
But these explanations would mean nothing if we don't highlight some of Anyword's core features.
Let's take a look at some of them one after the other.
Anyword Core Features
If you are wondering, what are the things Anyword can do that Copy AI can't?
Well, each of them has its areas of strength and core features that make it a perfect fit for its target users. And that's what we are going to discuss now.
Landing page copy
Anyword focuses on driving sales and increasing conversion. This is why it has a template for creating a landing page.
This template can take care of anything you want to write on a landing page, including:
Product titles
Descriptions
Meta descriptions
CTAs
Predictive performance score
Predictive Performance Analytics is a feature that gives you predictive scores on how likely your content will succeed with your target audience.
It also shows you how to improve your content further, such as what to add and remove. And it tells you how well your content is performing as you work out all the corrections.
Preset keyword library
The preset keyword library is a feature that enables you to have a library of keywords you want to use in your content.
These keywords typically draw attention to your content and get actions from users, such as new product/feature announcements, coupons, promotions, etc.
Automatic continuous copy optimization
Anyword gives you an automatic continuous copy optimization on your website in its advanced features.
Flagging bad variations
When you use Anyword to generate content, it gives you different variations. Some of these variations are good, and some aren't.
So, Anyword has a feature that lets you flag bad variations and encourage the generation of good variations.
So, when you create your next content, outputs similar to the flagged variations will be avoided, and you'll get more of the good variations.
With that explained, we can now take a look at some of the cons of using Anyword.
Cons of Anyword
Here are some downsides which might make you opt for other alternatives to Anyword.
Doesn't support the generation of content in bulk
Anyword doesn't support content generation in bulk, although that would have been an added advantage for its users.
Since Anyword focuses on driving conversions and sales, A/B testing is an integral part of that.
If you do a lot of A/B Testing in your agency and need to create Facebook ads, Google ads, and product descriptions, you may need to generate content in bulk for that purpose.
Compared to our platform, we have a feature for generating copy in bulk.
We built this with the interest of our users, who are primarily large marketing teams and eCommerce storefront owners, at heart.
We understand that agencies may have multiple clients to work with at a time, eCommerce site owners could have hundreds of product descriptions to write, and ad agencies could have A/B testing to do.
Every one of these circumstances would call for generating different copy variations.
Our platform's bulk copy generation feature supports different templates like
Facebook ads
Ad headlines
Blog outlines
SEO metatag
Social media captions
More of those are in the screenshot below:
To use this feature, all you need to do is import a CSV file of your products or ad ideas into Copysmith, and it'll generate the content for you in minutes.
The screenshot below shows you how it works.
If you are an eCommerce storefront owner or a marketer who creates content at scale, Copymsith helps you wear one less hat by taking care of your humongous content need.
That way, you'd be able to focus on the next important thing on your to-do list rather than spending days working solely on content creation.
No built-in plagiarism checker
Anyword doesn't have a plagiarism checker and doesn't integrate with one.
Hence, you'd be responsible for independently running your content for plagiarism check using external tools like Copyscape.
On the other hand, our platform has an in-built plagiarism checker that you can use at no additional cost.
It's also very easy to use.
If you use Copysmith to generate your content, the plagiarism checker icon can be seen just by the top right corner of your workspace, as seen in the screenshot below:
All you need to do is to click on the icon. Then, if your content passes the plagiarism check test, you'd see a popup notifying you of that, like the one below:
However, if your content fails the test, you'll be notified of that as well. Below is an example of that.
Creating content in one app and checking for plagiarism in another could take a toll on your productivity. This is why we believe that a plagiarism checker is a must-have for an AI copywriting tool.
Anyword doesn't have it, but it's one of the advantages you get from using Copysmith to generate content.
No in-app collaboration
Anyword doesn't support in-app collaboration. If you work in a team where you direct the content creation process or receive instructions from your boss, this leaves you in a difficult situation.
You'll have to write your content in Google Docs, chat with your team members in Slack, and monitor the progress of your project in Trello or Asana. That's using three apps for one work, at the very least.
But this can change when you use Copysmith, as it allows for in-app collaboration and workflow monitoring.
You can bring your team members into Copysmith by inviting them using their email addresses.
The screenshot below shows how that works:
Once they join your workspace, you can also assign them different roles depending on the access you want them to have:
You can also check the workflow dashboard to see how each task progresses, to whom it was assigned, and the last time they worked on it.
See an example of our workflow here:
By using Copysmith, your team won't have to struggle with jumping between apps to complete a task. That way, you become more productive and achieve more in less time.
Anyword Pricing
Anyword has a forever-free plan.
This limits you to 1,000 words per month and access to all templates except the blog post builder.
The second plan, known as Data-driven Basic, costs $79 per month and is billed annually. Here you'd have access to everything in the free plan plus 30,000 words per month, blog post builder, content score, and analytics.
The third plan costs $239/month and is billed annually. This gives you access to everything in the Data-driven Basic, plus: unlimited words, a dedicated customer success manager, and five seats.
The last pricing plan is Enterprise, and it costs $999 per month. With this, you'd have access to all the features, and you'll also be able to customize the app further.
What is Copy AI?
Copy AI is an automated copywriting tool for generating short-form marketing-related content and copy.
Who is Copy AI for?
Any tool that serves everybody serves nobody, and Copy AI isn't an exemption. It has its primary users to whom it has more to offer than anybody else.
Based on our experience, below are the categories of users who stand to gain the most from using Copy AI.
Freelance writers
Freelance writers are one of the primary target users of Copy AI since the app is built mainly for individual writers instead of large teams.
Startup founders
Copy AI is also useful for startup founders who can't afford professional copywriters but need to create marketing content for their website or social media.
Agencies
Copy AI also serves marketing agencies, especially if they create a lot of social media content.
Why do we believe it serves these users more than others? Well, it all boils down to the features it supports.
Copy AI features
You have seen the three categories of users that Copy AI targets the most. Now, let's discuss the core features that enable it to do this.
Social media content templates
Copy AI generates different types of content, but social media content is its main strength.
Taking a look at the social media section under its templates, you'll see that it has many templates for social media. This includes
Carousel posts
YouTube ideas
Hashtag generator
Hook generator
Short text hook
TikTok brainstorm topics
YouTube description intro
Video call to action.
As you can see, Copy AI has enough templates to cater to different types of social media content.
Chrome extensions
This feature lets you use Copy AI across different platforms and websites on your Chrome browsers, such as email inbox and Google Docs.
Rich text control
Copy AI allows for rich text control. With this, you can carry out any text style with your content while generating them in Copy AI.
This is advantageous because it saves you from editing your content for rich text after copying it from Copy AI to somewhere else.
Collaboration feature
In its Custom pricing plan, Copy AI has a collaboration feature. With this, your team can work together in your workspace without switching between apps.
Active community
Copy AI's Facebook group is active with over 8,000 users. Also, the company's co-founders, Paul Yacoubian and Chris Lu are very active on Twitter and LinkedIn.
This is useful if you need any quick help from fellow users or want to voice your concern to the company's founders directly.
With that said, Copy AI is not without its cons, too. This is what we'll be looking into next.
Cons of Copy AI
Just as its core features help us determine who should use the tool, the features it lacks will also show us if you should consider other alternatives.
Let's examine a few of them.
Doesn't support long-form content creation
Copy AI doesn't support long-form content. If your content need is above short-form content like social media posts, meta tags, and product descriptions, you may want to consider other Copy AI alternatives.
No SEO feature
Copy AI doesn't have any SEO feature and doesn't integrate with one.
If you use Copy AI to create content that you want to rank on search engines, you'd have to sign up for an SEO tool to see if you're on track.
At Copysmith, however, we understand that SEO is an integral part of marketing, and we know how essential it is to create content that ranks well.
So, we partnered with Frase to bring an SEO feature into our platform.
With this, you'd be able to optimize your content to rank for relevant keywords without leaving your workspace.
Most interestingly, our users don't need to have an account with Frase before using this feature.
As you can see in the screenshot below, you can insert the primary keyword you want to rank for, and our platform will suggest a list of relevant keywords you should use in your content to stand a better chance of ranking high on Google.
Hence, you don't need to alternate between two apps to optimize your content for SEO any longer.
Lacks integrations with third-party tools
Copy AI doesn't integrate with any third-party software. So, if you want to use your generated content anywhere else, you'd have to copy it from Copy AI and paste it into the other platform.
This slows you down and makes your job harder than it should be.
In contrast, our platform supports integration with other third-party tools.
For example, we have an integration with Hootsuite.
With this, uploading content to social media becomes much easier.
Once you've linked the two accounts, you can access Copysmith from your Hootsuite account and schedule your social media posts accordingly.
This is better than manually copying the generated social media content to different platforms, as it's the case with Copy AI.
Another essential integration that Copy AI lacks is with Shopify or other ecommerce platforms.
This would have been of great help to Copy AI users since the tool is strictly for creating short-form content, and product descriptions fall under that category.
However, on our platform, we enable storefront owners on Shopify to connect their Shopify account to Copysmith and upload their content directly to Shopify.
You can also update your product descriptions in real-time with this integration.
The Shopify icon in the screenshot below is all you need to click to upload content directly from your workspace to the platform.
We recently published an in-depth article showing you how Copysmith compares to Copy AI.
Copy AI Pricing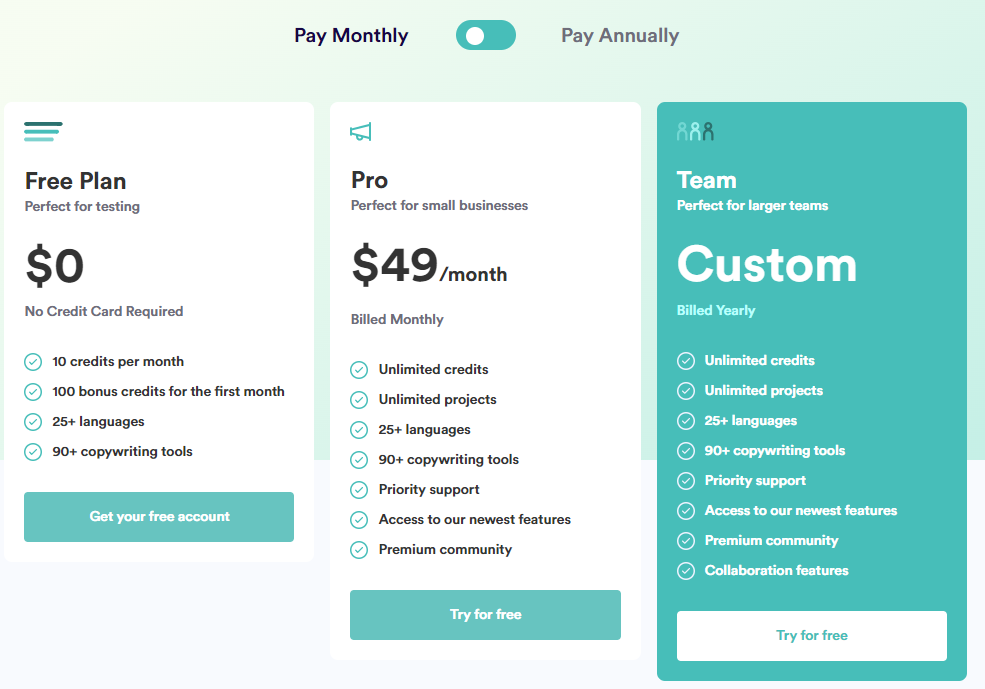 Copy AI has a forever-free plan that gives you 100 credits in the first month of usage and ten credits afterward. This plan also allows you to use any of the templates.
The second plan costs $49 per month. It gives you unlimited credits, access to all copywriting tools and the premium community.
The last pricing plan is the Custom plan. It gives you access to all the templates, other available features, and collaboration features.
Anyword vs Copy AI: Which One Should You Choose?
The major difference between Anyword and Copy AI is that while Copy AI focuses on generating short-form marketing-related content, Anyword focuses on creating content that drives conversions and sales.
Anyword serves agencies, founders, and sales teams. On the other hand, Copy AI helps freelancers, founders, and agencies.
While both serve their target users well, they are a bit lacking in innovative features.
And looking at the current growth pace of the AI copywriting industry, generating good content is no longer enough.
Features like plagiarism checker, in-app collaboration, bulk generation of content, content export feature, SEO feature, integration with third-party apps, and workflow management have become indispensable and give users a solid competitive edge.
That's if you want to do your job quickly and efficiently.
All these can be found on our platform which primarily serves eCommerce storefront owners, large marketing teams, and agencies alongside its high-quality content output and dozens of copywriting templates.
If you support eCommerce stores and need to create great content at scale, sign up for a 7-day free trial of Copysmith now and start writing for free. No credit card required.