Jarvis (Jasper AI) is one of many AI-powered copywriting tools out there. That said, the credit-based pricing model it adopts means that users have to pay more to create more content. Also, it doesn't support collaboration and integration features, making it difficult for large marketing teams to collaborate efficiently, which is vital for content marketing.
Our goal with this post is to help you make the right choice when deciding on the best Jarvis alternative to go for. Hence, we'll be showing you precisely what you are getting with each one of them and the unique features that set them apart from one another. You'll also learn about the pros and cons of each AI writing software and how much it costs to use each one.
Let's get started.
Looking for a Jarvis alternative that helps large marketing teams generate high-quality content at scale, supports collaboration, and integrates with other marketing tools? Click here to sign up for a 7-day free trial of Copysmith and start writing for free (no credit card required).
5 Best Jarvis (Jasper AI) Alternatives You Should Consider
Here is a comprehensive list of the five Jasper AI alternatives that we'll be reviewing in this piece.
Read on to see how each of them compares to Jasper AI (Jarvis).
1. Copysmith: The Jarvis Alternative For Large eCommerce Teams
Copysmith is the best Jasper alternative for eCommerce and large marketing teams. Our goal for building the software is to help marketers and content creators overcome writer's block, combat burnout, and collaborate seamlessly in one app.
Copysmith adds significant value for every content creator, but it's especially perfect for:
eCommerce store owners
Marketing agencies
In-house marketing team in large enterprises
Let's look at some of the features that streamline your marketing workflow.
Unique Features That Make Copysmith One of the Best Jarvis Alternatives
Below are the stand-out features of Copysmith, which makes it one of the best Jarvis alternatives out there.
In-app collaboration and workflow management
One of the most prized appeals of Copysmith is its workflow management, a feature that allows you to bring in all your team members to a workspace and work together on multiple projects.
Instead of writing your piece in Google Docs and asking for feedback and approval in Slack to deliver a single project, this feature allows you to add team members, assign roles, and track the progress of each task you are working on.
Here is what the dashboard where you can add your team members looks like:
You can easily invite team members to your workspace using their email addresses before the commencement of a project.
Once your project has begun, you can assign roles to different people on your team.
As you can see, Copysmith makes it easy for you to collaborate and work together with everyone on your team.
Do you work in a large marketing team and want to create high-quality content at scale? Sign up for a 7-day free trial of Copysmith and start writing for free. (no credit card required).
Integration with third-party apps
Copysmith integrates with some essential marketing apps and tools for your convenience and time efficiency. This includes Google Ads, Shopify, Frase, WooCommerce, Zapier, and a lot more.
At different levels, each of this integration is unique for a purpose. So let's look at each of them one after the other.
Shopify Integration
If you own a storefront on Shopify, you need to create tons of quality product descriptions.
Copysmith allows you to import your product spreadsheet, and it will automatically generate strong descriptions for you in minutes, whether you manage 10 SKUs or 10,000.
With this integration, you can launch these product descriptions on your Shopify storefront directly from your workspace. It also allows you to edit them from your Copysmith's dashboard in real-time.
Google Ads Integration
With the Google Ads integration, you can upload your Ad copy directly to your Ads account as soon as you create them on the platform. This saves you the time you could have spent copying and pasting the generated content to your Ads account.
Frase Integration
Integration with Frase allows you to optimize content for SEO. Additionally, you do not need a Frase account before using this feature.
Generation of bulk content
The bulk generation of content feature in Copysmith is where you create multiple generations of one content type.
It has many purposes, but one of its strongest use cases is creating multiple headline variations for A/B testing.
By clicking on the bulk copy generation button, you'd see many options you can choose from. Select the 'Ad Headlines' option and input all the necessary information. Copysmith will generate different headline variations for you, and you can select as many as you like.
Built-in Plagiarism checker
Copysmith has a built-in plagiarism checker to ensure your content is unique to you.
Once you've created the content, you'd see a plagiarism checker icon at the top of your screen. You need to click on it to confirm if your content passed the test.
If your content passes, you'll see this message pop-up:
If it doesn't, this is what you'll see instead:
Copysmith Pricing: How Much Does Copysmith Cost?
Copysmith pricing starts at $19 per month. With this plan, you will have access to all writing templates and integrations. It also gives you 50 credits and 20 plagiarism checks.
The second pricing plan costs $59 per month. This increases your credit limit to 400 and plagiarism checks to 100. It also comes with access to all templates, integrations, and in-app support.
The Enterprise plan will give you unlimited access to all templates, as well as many other great features like content import and export, in-app collaboration, bulk content creation, and more.
Kindly schedule a demo through this link to learn more about this plan.
2. Rytr
Rytr is another AI writing software focused on writing marketing-related content such as YouTube descriptions, job descriptions, story plots, and video channel descriptions.
Let's take a look at some of its core features.
Pros of Rytr
Here are some Pros of using Rytr as an alternative to Jarvis.
Very easy to use
Rytr uses a minimalist design that makes it very easy to use. Also, since it doesn't have as many features as most alternatives to Jarvis, it's easy to use for anyone familiar with any software.
Multiple variants of the article
Rytr generates AI content and comes up with different versions and options to choose from.
Specific copywriting formulas
Since Rytr targets marketers, it uses well-established copywriting frameworks such as AIDA and PAS to produce high-quality copywriting output.
Cons of Rytr
Here are some cons of this AI writing software, which might make you choose other Rytr alternatives over it.
It doesn't support in-app collaboration and workflow management
Rytr was primarily built for small marketing teams, just like Jarvis. Hence, it doesn't have any collaboration and workflow management features across its plans. So if you're looking for a Jarvis alternative that makes it easy to collaborate with your team members, then Rytr isn't for you.
Lacks third-party integration features
Even though Rytr has an in-built plagiarism checker, it doesn't support integration with other marketing tools. This is another feature that it lacks, just like Jarvis.
Unlike Copysmith, which integrates with marketing tools such as Google Docs, Shopify, Zapier, and Woocommerce So, if you're looking for a Jarvis alternative with integration features, you should go for our platform.
Rytr Pricing: How Much Does Rytr Cost?
Rytr has a three-tier pricing plan. The free plan costs $0 per month and allows you to generate 5000 characters (between 710 and 1250 words) per month. The saver plan costs $9 per month and limits your use to 50,000 characters (between 7140 and 12500 words) per month.
The unlimited plan costs $29 per month and allows you to generate unlimited characters per month.
When compared to Jarvis, Rytr's pricing seems like a better option. Unlike Jarvis, which caps its monthly AI content generation usage to 20,000 words for $29, Rytr gives users unlimited use at the same price point.
Also, Rytr's pricing plans don't support long-form content, while Jarvis does with its Boss Mode, which costs $59 per month. On the other hand, Copysmith gives users 25 credits access to the free-form smart editor for long-form content creation with its starter plan, which costs $19 per month.
3. Writesonic
Writesonic is a website content writing software that focuses on writing marketing copy, articles, and product descriptions.
Pros of Writesonic
Below are some features of Writesonic that make it one of the best alternatives to Jarvis.
Rich text editor
This feature allows you to add any rich text control you want to your texts directly from the app. Hence, when you are exporting them outside the software, it'll maintain its original text format.
Plugin
Writesonic is not only available as a standalone app. But also as a plugin with other document creation products such as Microsoft Word, Dropbox paper, and Zoho Docs.
Cons of Writesonic
Here are some downsides of Writesonic, which you should watch out for when considering it as an alternative to Jarvis.
Doesn't have enterprise solutions
Writesonic doesn't cater to enterprise customers, just like Jarvis. So, if you need more customization options, you won't find the Writesonic as a perfect fit for you.
Lacks integration with third-party apps
Writesonic doesn't integrate with third-party marketing tools and apps. This is similar to Jarvis, which lacks this feature as well. So, if you're looking for an AI writing assistant that integrates with third-party apps, then you should go for an option like Copysmith, which supports this.
Writesonic Pricing: How Much Does Writesonic Cost?
Writesonic operates on a four-tier pricing model. The basic pricing plan starts at $15 per month, giving you 75 credits and one user seat. The professional plan costs $45 per month. With this plan, you have access to unlimited credits, plus one user seat.
The startup plan costs $95 per month, which gives you unlimited credit access and two user seats. The agency plan costs $195 per month. This plan allows for four user seats and unlimited credit access.
While Writesonic pricing seems excellent on the surface, the downside is that it doesn't offer the user enough features. For instance, Writesonic doesn't include a plagiarism checker with any of its plans. Copysmith, on the other hand, gives you access to the in-built plagiarism checker across all plans, while Jarvis only offers this as an add-on with Copyscape.
Similarly, while Copysmith has a chrome extension for its software for all users, Writesonic doesn't have this feature at the moment.
Looking for more alternatives to Writesonic? Check out this in-depth post we wrote about the best Writesonic alternatives.
4. Anyword
Anyword AI is an AI-powered copywriting software that's focused on ad copies. It also writes marketing-related copies such as blog posts, landing pages, email subject lines, and more.
Pros of Anyword
Read on for some of the key features of Anyword.
Predictive performance score
Anyword isn't as versatile as some of its competitors like Copysmith which helps marketers wear one less hat and become more productive at work. Its main forte is ad copies and its predictive performance score feature makes the job of ads creators easier. This feature lets you validate the potential of each copy variant before you use them.
Preset keyword library
Anyword's preset keyword library is a feature that allows you to pre-enter some special keywords you may like to use in your copies e.g. new arrivals, coupons, free shipping, and so on. Those keywords will then be used in every copy you create.
Cons of Anyword
Like every other tool, Anyword is not without its downsides. Here are some of them.
Lack of integration with other tools
For a tool programmed to cater to ad creators' needs, not integrating with any third-party app is a weakness on the side of Anyword.
Unlike Copysmith which integrates with third-party marketing tools like Shopify, Google Ads, Frase SEO, and more. Each and every one of these integrations serves a unique purpose and helps marketers achieve more at work.
The pricing gap
The wide gap in pricing tiers is a source of concern for many users of Anyword. While its basic plan is $99, to upgrade, you'd have to jump straight to $339. The next upgrade is the enterprise plan which costs $999 per month.
Copysmith on the other hand costs less despite having more features.
The basic plan on Copysmith is $19, while the next in line, the professional plan, is $59. We also have the enterprise plan based on the custom pricing model, and this gives you access to almost everything you can think of in the best AI copywriting tools.
If you want to know how Anyword compares to Jasper, check out this in-depth comparison post we wrote about Jasper vs Anyword.
Anyword Pricing: How Much Does Anyword Cost?
The Starter plan for Anyword costs $99 per month, and it gives you access to 30,000 credits and all content creation forms. But you won't have access to predictive analytics and score with this plan.
The business plan is $399. This gives you access to unlimited credits, website copy personalization, predictive analytics, and score.
The last pricing plan costs $999 per month. It gives you everything in the previous plans as well as exclusive features like custom models, brand guideline filters, and more.
Looking for more alternatives to Anyword? Here is a comprehensive post we wrote about the best Anyword alternatives and competitors.
5. Copy AI
Copy AI is an AI content generator focused on creating marketing copy for small business owners, startup founders, copywriters, and entrepreneurs.
Pros of Copy AI
Below are some Copy AI features that make it one of the best alternatives to Jarvis out there.
Editorial content and marketing copy
Copy AI is good at creating editorial content. So if you need lots of editorial content, Copy.ai may be the ideal AI writing tool for you.
Straightforward pricing model
Aside from the freemium model, which is free forever, Copy AI has just one premium plan, which is $49, and this gives you access to all its features.
Cons of Copy AI
Below are some downsides to Copy.ai, which you should consider before choosing it as an alternative to Jarvis.
It doesn't support long-form content creation
If you're looking for a Jarvis alternative that can create long-form content, then Copy AI isn't the perfect fit for you. In fact, this is the major difference between Jarvis and Copy AI. However, while Copy AI doesn't support this feature, it is one of the core features of Copysmith's free form smart editor, which is available to all users across all plans.
Lacks third-party integrations
Copy AI doesn't integrate with any third-party marketing tool. This is also similar to Jarvis. Copysmith, on the otherhand, has a range of integrations across all plan types
Export features
Copy.ai doesn't support directly exporting generated copies to PDF, Docs, or other third-party tools. Instead, you have to copy and paste your content outside the platform to use it.
To read more about the differences between Copysmith and Copy AI, you can check out this Copy AI vs Copysmith post we recently published.
Copy AI Pricing: How Much Does Copy.ai Cost?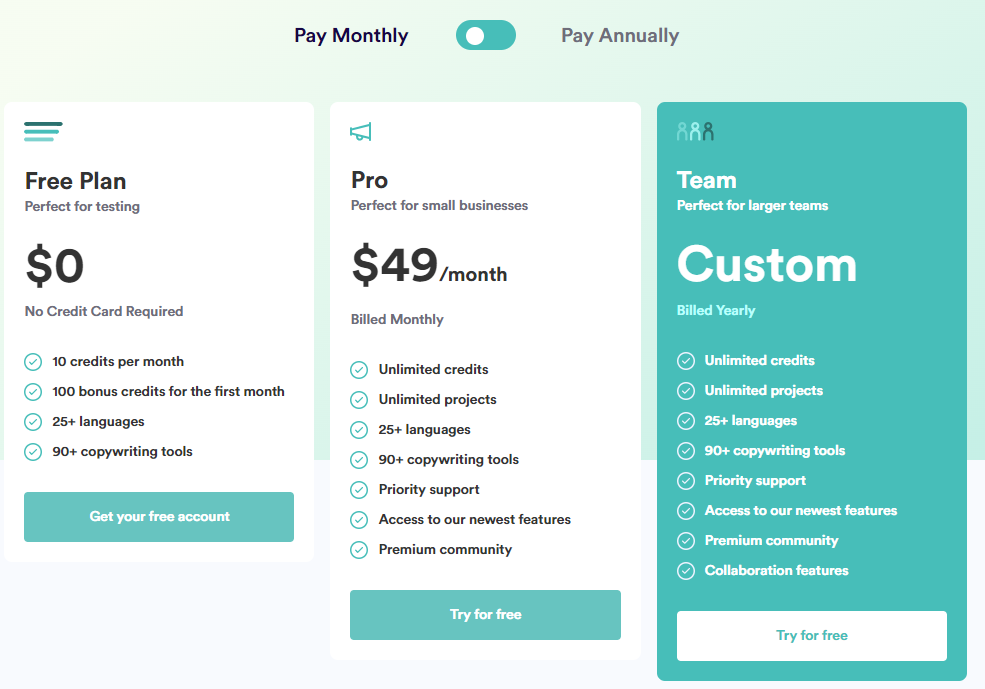 Copy AI pricing starts at $0 per month, with ten free credits every month, plus 100 free credits for the first month. The Pro plan costs $49 per month, with unlimited access to credits and creating unlimited projects.
Choosing The Best Jarvis Alternatives: How To Decide Which One is Best For Your Marketing Needs
In this post, we've reviewed five Jarvis (Conversion AI) alternatives that you can try out.
As you can see, each of these Jarvis competitors has unique features. Hence, choosing the best one that fits your specific needs depends on many factors.
If you're a startup founder, you might opt for a Jarvis alternative that doesn't have collaboration features.
If you run an Ad agency, you might prefer an alternative to Jarvis that integrates well with Google Ads.
If you manage a large ecommerce shop, you might want to go for a Jarvis competitor that allows you to generate bulk product descriptions quickly and connects easily to your Shopify and Woocommerce stores.
Copysmith serves large marketing teams, eCommerce companies, and in-house large and enterprise marketing teams. We have developed features and incorporated integrations that empower marketers to create high-quality content at scale, launch marketing campaigns fast, and collaborate seamlessly with their team members.
If you want to see how Copysmith works, sign up for a 7-day free trial and start writing for free. (no credit card required)