Users love Rytr for its minimalist design and ease of use. But the limited use cases and lack of long-form content creation features are some of the downsides that make its users look for better alternatives.
Wondering if there are better Rytr alternatives? We got you covered in this piece.
In this post, we will discuss the seven best Rytr alternatives. Read on to find out what they are.
Do you work in a large marketing team and need to create great content at scale? Sign up for a 7-day free trial of Copysmith and start writing for free. No credit card is required.
The Best Alternatives and Competitors to Rytr
Let's proceed to highlight the core features, pros, and cons of the Rytr competitors and alternatives that we'll be reviewing in this post
1. Copysmith: The Rytr Alternative for Large Marketing Teams
Copysmith is an AI copywriting software for creating different types of marketing-related content, i.e., social media ads, social media captions, Google ads, SEO meta descriptions, blog posts, etc.
It helps marketers overcome writer's block, avoid burnout, and become more productive at work.
Every content creator would benefit from using Copysmith's AI copywriting templates. But considering many of its other innovative features, large marketing teams have much more to gain than individual writers.
This includes eCommerce storefront owners, in-house marketing teams in large enterprises, and large marketing agencies.
Bearing in mind that most AI copywriting tools focus on generating great content for their users fast, let's look at some of the unique features that make Copysmith stand out and a better Rytr alternative.
Content export
Copysmith gives users the ability to download their content in multiple versions – TXT, Docx, PDF, and CSV.
With this feature, you can review and edit generated content outside your workspace, should you need to.
Another advantage of this is that you can access your content offline. But, unfortunately, in most of the existing AI copywriting tools, downloading your content isn't yet a thing and the few ones that have it limit you to one or two formats, at most.
Workflow Management and In-app Collaboration
As part of the drive to make Copysmith a leading AI copywriting platform for large marketing teams, irrespective of how big and diverse they are, we have built a workflow and in-app collaboration space into Copysmith.
Adding team members on Copysmith is as easy as sending your team members an invite through their email addresses:
And you can assign roles to your team members:
You can also follow task progress in your dashboard:
SEO feature
We partnered with Frase SEO to bring search engine optimization closer to Copysmith users. That way, you can optimize each piece of content generated on the platform to rank on search engines without copying and pasting it into a third-party SEO tool.
This is just one of the many essential integrations of Copysmith. Here is an example of how Frase SEO works on Copysmith.
As you can see, it recommends specific keywords to include in your content to make it rank high on Google and other search engines.
Integration with third-party apps
Copysmith integrates with several third-party apps and software such as Google Ads, Hootsuite, Shopify, WooCommerce, Zapier, Frase, etc.
We made these integrations with the platform's primary users in mind. Take the integration with Shopify, for example.
It allows you to update your existing content on Shopify in real-time and upload your new product descriptions to your Shopify storefront directly from your workspace.
Similarly, Google Ads specialists have a similar advantage to Shopify storefront owners.
With the Google Ads integration, you can link your Copysmith and Google ads accounts together to enable seamless uploading of generated Google Ads directly from your workspace.
These are just some of the useful integrations of Copysmith, and more are in the pipeline.
Plagiarism checker
Copysmith comes with a built-in plagiarism checker. With this, you can check your generated content for plagiarism without the stress of copying and pasting it into another platform.
Most Copysmith alternatives don't have this feature. So, you can see that we built our platform to save you time and headache as a marketer.
Interestingly, this comes at no additional cost.
You can see the plagiarism checker icon at the top right corner of your workspace. All you need to do is click on it and wait for the result.
If your generated content is plagiarism-free, you'll see a message like this one below:
If any part of your content is plagiarized, here's the notification you'll get:
Copysmith Pricing: How Much Does Copysmith Cost?
Copysmith pricing is pretty straightforward. It includes three plans: Starter, Professional, and Custom.
The Starter plan is $19 per month. This is for individuals using AI copywriting software for the first time. This plan gives you access to all templates, 50 credits, integration with other tools, in-app support, and 20 plagiarism checks each month.
The Professional plan costs $59 per month. This is for users who want to step up their content creation game. With this, you get 400 credits, access to all templates, 100 plagiarism checks, integrations, and in-app support each month.
The final pricing plan on Copysmith is the Custom plan. This plan gives access to all templates, unlimited credits, unlimited plagiarism checks, integrations, in-app collaboration, bulk import and export of content, and a lot more.
You'll need to book a demo with the sales team for more information about this plan.
2. Writesonic
Writesonic is an AI writing software for generating online content. This includes landing pages, ads, blog posts, product descriptions, and so on.
Here are the core features of Writesonic.
Long-form articles
Writesonic can create long-form content like blog posts. So, if you are looking for an AI writing assistant that can help you create long articles, then Writesonic may also be a good fit.
Multiple variants of each content output
Writesonic gives you more than one output for each generation. This means that you'll have multiple options to choose from if one output doesn't satisfy your expectations.
Exists as a plugin
Writesonic also exists as a plugin that you can use across different pages and apps on your browser.
Writesonic Pricing
Writesonic offers four pricing packages asides from its free trial.
The first pricing plan costs $15 per month. With it, you'd get 75 credits, one user seat, and access to several templates.
The second plan costs $45 each month. It gives access to all features, one user seat, and unlimited credits.
The third pricing package costs $95 per month. This gives you access to unlimited credits, features, and two user seats.
The final plan costs $195 per month. With this, you get access to all features, four user seats, and custom requests.
Here is a comprehensive post we wrote about the best Writesonic alternatives and competitors in the AI copywriting industry.
3. Anyword
Anyword is an AI writing assistant for generating short-form copy and ads.
Here are some notable features in Anyword.
Preset keyword library
The Preset Keyword Library feature refers to a library of keywords you can use in your copy.
These may be words announcing the arrival of a new product, a coupon, feature update, etc.
Predictive performance score
Predictive performance score is a feature that predicts how well your content is likely to perform with your audience and also shows areas of improvement to make your content better.
Blacklisting unwanted words
This feature helps you blacklist words you don't want to appear in the output.
Anyword Pricing
Anyword has three pricing plans: Starter, Business, and Enterprise.
The Starter plan costs $19 per month. It supports 25 languages, generation of 15,000 words per month, and access to all the writing templates.
The Business plan costs $239 per month and is billed annually. It will give you everything in the Starter plan, unlimited words, five user seats, and predictive score and analytics.
The final pricing plan is the Enterprise. With this, you get unlimited words, access to all features, and further customization.
Here is an in-depth post we published recently about the best alternatives to Anyword.
4. Copy AI
Copy AI is an AI-powered copywriting tool for creating short-form copy such as landing pages, SEO meta descriptions, social media ads, and social media content.
Let's look at some of its features.
Rich text control
Copy AI supports rich text control. This saves you time when copying your content to be used elsewhere.
Social media templates
Copy AI pays much attention to social media content. Here are some of the templates it supports:
Hook generator
Instagram captions
Instagram product showcase
TikTok brainstorm topics
YouTube description intro
Video call to action
Editorial content
Copy AI also creates good editorial content. This is good for those who use press releases, PR-related content, etc.
Here's an in-depth comparison of Copy AI vs. Copysmith that we recently published to show you how the two platforms compare.
Copy AI Pricing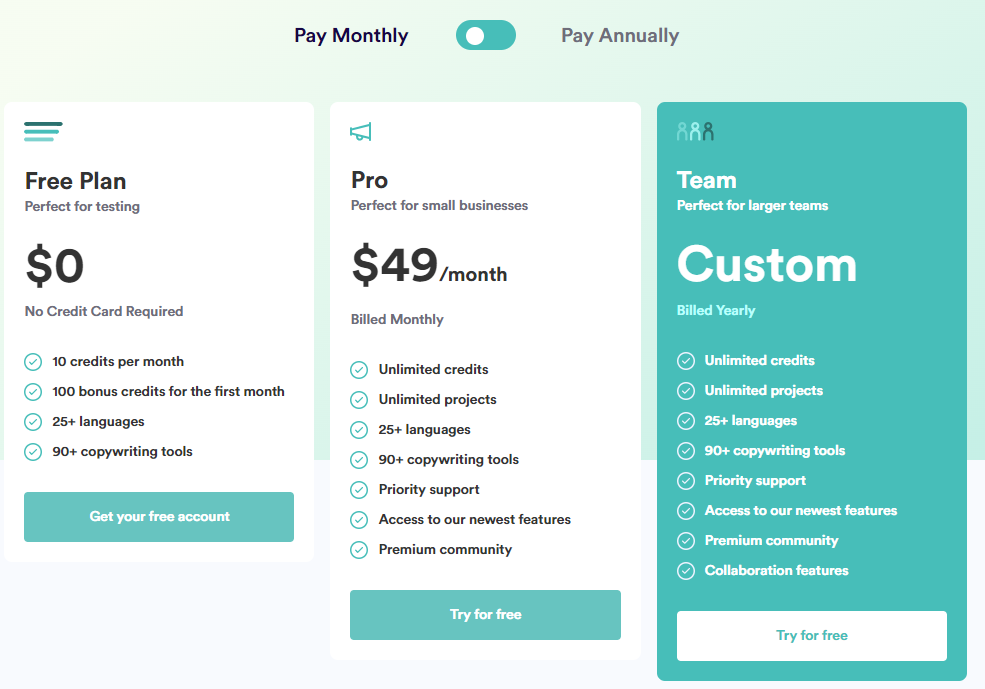 Copy AI has a forever-free plan. With this, you'd get 100 free credits in the first month and ten credits in subsequent months.
The Pro plan costs $49 per month. This gives you access to unlimited credits, templates, priority support, and premium community.
The custom package gives you all the features and also unlocks collaboration features.
5. Peppertype
Peppertype is a content generation tool that uses the power of Artificial Intelligence to create short-form content.
Here are some of its features.
Content export
Peppertype allows you to download content in a CSV format. Compared to Copysmith, which will enable you to download generated content in different formats, you'd see that you have more options with us.
Copywriting frameworks
The following copywriting frameworks are available in Peppertype:
AIDA
BAB
PAS
Feature to benefit
Value proposition
Good UI/UX
According to many users, Peppertype has a pretty easy-to-use interface. However, this might be because it has limited features.
Peppertype Pricing
Peppertype pricing plan starts at $35 per month. This gives you access to one user seat, 50,000 words, templates, and customer support.
The Growth plan costs $199 per month. It gives you access to five user seats, 50,000 words, content templates, customer support, and in-app collaboration.
The Enterprise plan is the final one that gives you access to all existing features and more. You can also request further customization.
6. Jasper AI (Previously Jarvis)
Jasper AI is an automated copywriting software that creates different types of marketing content.
Here are its main features.
Long-form content
Jasper Boss Mode subscription allows users to create long-form content using the software. So, Jasper might be a good fit if you need a Rytr alternative to create long-form content.
Lots of templates to choose from
Jasper has over 90 templates in different categories.
SEO feature
Jarvis integrates with Surfer SEO (Its only third-party integration) to help its users optimize their content for relevant keywords.
Copysmith has a similar feature: integration with Frase SEO. Aside from that, we support and integrate with other third-party tools to make marketers' lives easier.
Here's an in-depth comparison of Jasper and Copysmith, which we published recently.
Jasper pricing
There are two subscription plans on Jasper: Starter and Boss Mode.
The Starter plan is limited to short-form copy such as tweets, headlines, and product descriptions. It costs $29 per month and allows users to generate up to 20,000 words and have unlimited user logins.
The second plan, Boss Mode, is for writing long-form content. Think blog posts and emails. It costs $59 per month and can generate up to 50,000 words.
7. ClosersCopy
ClosersCopy is an AI content creation tool that helps write content for sales and advertisement.
Let's take a look at its significant features.
Long-form article
For those who need long articles more than short-form copy, Closerscopy is one tool that does that as well.
Templates for creating your framework
Closerscopy allows users to build their content framework if none of the existing templates suits their needs. You can also pick from many of the newer templates that members of the Closerscopy community have developed.
Closerscopy Pricing
ClosersCopy has three plans: Starter, Professional, and Unlimited.
The Starter plan gives you access to 75,000 words per month, templates, and the creation of long-form content. This costs $29.99 per month.
The Professional plan is similar to the Starter plan in terms of access but allows you to generate 120,000 words. This costs $49.99 per month.
Lastly, the Unlimited plan lets you generate unlimited words, gives you access to all features, and gives you three additional user seats. It costs $79.99 per month.
Here is an in-depth post we published recently about the best alternatives to Closerscopy.
Which of the Rytr Alternatives is Best for Your Marketing Needs?
In this article, we've mentioned the seven best alternatives to Rytr, core features, and how they are different.
While most AI copywriting tools out there can generate good content, what would make a tool stand out from the rest is how relevant its templates are to the users and how its features help them do their best job.
Copysmith focuses on eCommerce store owners, large marketing agencies, and in-house marketers in large enterprise companies.
This informed the decision to build features such as:
Workflow management and in-app collaboration
Content export in multiple formats
Integration with apps that are relevant to the target users
Various outputs for every generation
Plagiarism checker
SEO integration
So, if innovative features, multiple use cases, ease of use, integration with third-party apps, and collaboration with team members are some reasons you want to switch from Rytr, then Copysmith is the best fit for you.
Want to see how Copysmith works? Sign up for a 7-day free trial now and start writing for free. No credit card required.